Community plan suggests building dwellings on streets that have low traffic volumes.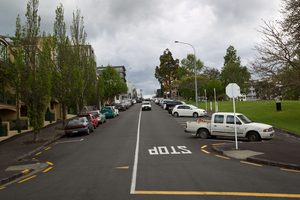 The Auckland Council is being urged to use roads for housing as a way of solving the city's accommodation crisis. What's more, the promoter of the idea, the Parnell Community Committee, has nominated several roads in the inner-city suburb for housing and community uses.
"It's really quite obvious," says Jenni Goulding, a planning consultant to the committee. "Roading takes up a large percentage of Auckland spatially and Parnell has indicated the city needs to provide an inventory of roading that may be suitable for intensification."
Auckland has 7227km of roads, excluding state highways. The committee's plan for the future of the suburb, Tomorrow Parnell, suggests some residential roads carrying small volumes of traffic that could be "more efficiently" used as bare land for residential or commercial building and community use.
They include Augustus Tce at the bottom of Fraser Park and the northern end of Balfour Rd, opposite the Gladstone Tennis Club.
Other roading space that could be turned into community uses, such as new parkland or even a community vegetable glass house, are the Parnell Rd side of Fraser Park and the top end of St Georges Bay Rd.
The committee has also suggested closing several roads off the Parnell Rd stretch of shops at weekends to bring them to life with pedestrians.
"There are answers to making Auckland a compact city, and it is time to embrace new planning techniques because the old ones have certainly not delivered a city we are proud of," Ms Goulding said.
The council's environmental strategy and policy planning manager, Ludo Campbell-Reid, said turning roads into housing was an innovative idea, but it had not been on the council radar.
He said most of Auckland's roads, including residential roads, were overly large for the amount of traffic and had space that could be used for other uses.
An Auckland Transport spokesman said a myriad of issues would have to be looked at before any road space could be used for housing.
They included legal and access issues, the impact on services like power and water, the implications for public transport, needs for future development and road user demand.
"Vehicles are more of a liquid than a gas. Vehicles don't disappear if roads are closed for some reason. They spill onto surrounding streets, so we would have to look at the impacts on other suburban or nearby arterials," the spokesman said.