30 Pohutukawa Road, Whenuapai
SIZE:
Land 2630sq m, house 462sq m.
PRICE INDICATION:
CV $3 million (2011). Auction November 18 unless sold prior.
INSPECT:
Sat/Sun 4.30-5.15pm.
SCHOOL ZONES:
Whenuapai School, Massey High School.
CONTACT:
Jo Lanigan and Simon Spiller, Bayleys, ph 021 279 5468 (Jo) or 021 968 068 (Simon).
FEATURES:
Absolute waterfront architecturally designed home on huge grounds with master suite, multiple living areas and separate one-bedroom guest suite. High-stud lower-basement boat shed launches off private boat ramp with deepwater mooring offshore. * Plus high-stud basement boat parking.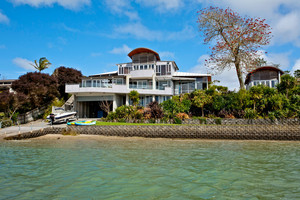 Little black shags resting after diving for fish in the upper Waitemata Harbour triggered the inspiration for an architect's own spectacular waterfront family home.
Architect Colin Pauling says, "They swim together in teams herding fish and then they sit on top of poles in the water out there and hang their wings out to dry. I thought, that's a nice theme, wanting to build a place were we can come back and dry our wings and get ready to go back out into the world and have another go at it."
The bird theme then led Colin to draw inspiration from "Wingspread", a 1930s Wisconsin house in four wings which Frank Lloyd Wright designed for a member of the SC Johnson household products family. "So I thought, 'Let's do a Wingspread down here and call it 'Wingspread South' because it's in the Southern Hemisphere."
The house is primarily constructed of concrete with a north face made almost entirely of glass, giving almost every room immediate north-facing sea views. There's bird symbolism in gently curved wings of Butynol roofing on either side, the master suite's "beak" balcony and huge bird footprints formed in the concrete below leg-like concrete supporting beams.
Colin says "It's a very quiet, peaceful place to live. It's like it regenerates you when you come here."
He, his late wife Glenda (who passed away five years ago), and their two sons moved into the completed home in 2001.
The boys are adults now and in March this year Colin married Jan (pictured) who, with her twin teenage girls, joined him. They're passionate about the area's combination of waterfront serenity and handiness, seven minutes from the Northwestern Motorway and 25 minutes off-peak to the CBD. Jan says, "It's just incredible, living in a place like this."
Bird imagery features in the automated front gates with intercom system. A landscaper favoured native planting around the long driveway and vast grounds. These include an expansive lawn, a separate self-contained one-bedroom guest suite, "Little Bird", and a triple garage.
One of the twins tried her hand at fly-fishing out the front, near the front sea-wall they built and near a lofty flame tree frequented by nectar-sipping tui. Everyone was gobsmacked when she landed a good-sized snapper using chorizo sausage as bait.
A path to the front door traverses a pond with goldfish. The three-storey layout is relatively simple with the master suite upstairs, living and outdoor entertaining on and around entry level and children's rooms downstairs (bolstered by the guest suite). Detailing is meticulous, from select walls sheathed in island kauri panelling, to musical notes dancing up the sides of the staircase, to night-lighting illuminating the flame tree and sea.
Under the two curved "wings" are curved island kauri ceilings. These soar above the formal lounge, next to a formal dining area, and a multi-purpose family area where family members get together and do homework, paint or sew.
This area extends into a front informal living and dining space opening to the front deck and a rear living area-music room opening to a sheltered courtyard.
The modern central kitchen links both dining areas. The mid-floor toilet and laundry are the only rooms that don't face north.
The upstairs master suite's curved front balcony represents a beak. The suite has walk-through wardrobing and is semi-open-plan with its bathroom featuring a double shower with a view, a spa bath and a separate toilet.
Colin says: "You're woken up by the birdlife and at night when the tide's out you can hear the mud popping."
Downstairs, the two girls' bedrooms open to the outdoors and share a bathroom.
The lower-basement level contains a wine cellar and a high-stud boat shed with a winch to launch craft directly off a private boat ramp, with a deep-water mooring off-shore.
Jan loves Wingspread South but the couple are excited about kicking off their married life by building a "Colin and Jan project".