293 Pt Wells Rd, Pt Wells
SIZE:
Land 4.478ha, house 280sq m (approx).
PRICE INDICATION:
Buyers in excess of $2.5 million should view. International tender closes October 24.
INSPECT:
Viewing by appointment.
SCHOOL ZONES:
Leigh School, Matakana School, Mahurangi College.
CONTACT:
Lesley McLellan, Ray White Remuera, ph 520 7662 or 0274 535 070.
FEATURES:
An elegant country estate backing on to the river at Pt Wells, an hour's drive from Auckland in the Matakana region, with a 12-year-old three-bedroom home and attached self- contained one-bedroom cottage.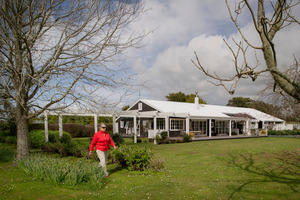 Pat Watkins popped out to the dairy one day with no intention of buying a new house, much less moving to the country.
From her beach bach in Omaha, the lifelong city dweller headed down the road to Pt Wells, a cute village nestled between the Whangateau Harbour and Omaha River.
Just short of the village, she saw a sign for an open home. It was outside a property that had always interested her - a ruler-flat lifestyle block next to the river.
A woman she had been at school with had transformed it from an unviable kiwifruit orchard into a park-like garden estate, with the intention of developing it into a spa retreat. Years earlier, Pat had clipped a story about the property from a home and garden magazine, but never visited.
Curious, she stopped to look - and was captivated.
The three-bedroom house and attached one-bedroom cottage were designed in a rustic country style that complemented the peaceful landscape, with exposed beams, colonial-style bifold windows and doors, and raw pine internal doors and cabinetry.
The house and cottage faced north, and the living areas and the four bedrooms (all with en suites) opened straight out on to the grounds. There was an office that would give Pat plenty of space to operate her interior-design business, Creative Perspective, and a workshop that she could use as an art studio.
And, after all, living in the country was on her bucket list. Within three weeks it was hers.
Though the property ticked all the right boxes, there was still plenty of potential for Pat to take it to the next level while indulging her love of design, landscaping and gardening. So she got to work.
"I'm quite good at taking on a challenge," she says. "It was just such a good opportunity, just what I needed at the time."
Her priority was thinning out the many tall trees on the property, a stand of which shaded the house and gave it the enclosed feeling of living in native bush. Pat wanted more of an open feel that emphasised the park-like grounds so she cut some down and planted others in better spots, including a double avenue of pretty Osakazuki maples. Together with the liquidambars, cobalt hydrangeas and 20,000 spring bulbs lining the driveway, they create the feel of a grand country estate.
With so much flat land to work with, Pat was able to plant extensive colourful gardens and a large organic vegetable plot while retaining huge expanses of lawn to keep the visiting pukeko, quail and pheasants happy.
Meanwhile, she modernised the interior colour scheme of the house and cottage to complement the fresh country feel, and extended the deck to create more outdoor entertaining space, both for quiet breakfasts in the sun and for social gatherings.
"Friends come for lunch and it just drifts on into the evening."
She has kept the cottage separate because it's served as a lovely private retreat for visitors, but says the two dwellings could be joined in a jiffy with the removal of one small wall.
The only thing Pat hasn't had a chance to do in her three and a half years at the property is spend much time in her art studio. But she's happy with what she's achieved. She's bittersweet about leaving, but feels it's time to move back to the city, travel more and to get stuck into the next items on her bucket list.
"It's just been fabulous to live here. It's been the most wonderful privilege."