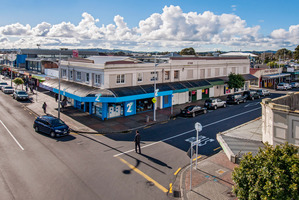 A high-profile commercial building that started life in the 1920s as Papakura's first cinema is for sale in the heart of the South Auckland retail strip.
The 761sq m, two-storey character building, on a prominent 640sq m site on the corner of Great South Rd and Averill St, is for sale in Bayleys' latest Total Property portfolio through Peter Migounoff and Mike Ashton of Bayleys Counties. It will be auctioned next Wednesday, September 26, with 15 other commercial and industrial properties.
Migounoff says the freehold property at 202-208 Great South Rd, Papakura, has substantial potential for development and could end up as a mixed-use complex with retail on the ground floor and apartments upstairs as allowed under its existing Commercial 3 zoning.
Cellphone provider 2degrees has rented the corner ground-floor retail space because of its huge profile on a high-volume Great South Rd route through Papakura's main street.
"It is very highly branded and is exposed to the many cars that pass by it every day," says Migounoff.
2degrees has a four-year lease on its shop until September next year but with three rights of renewal for a further 12 years. Other occupants include internet cafe and retailer Eternal Dragon and Visique Optometrists.
The property is currently producing net annual rental income of $76,602, but Migounoff says this would increase substantially if the vacant space was leased. This includes two ground-floor retail tenancies, one of 129sq m and the other 84sq m, which he estimates could bring in up to $40,000 per annum. If a new owner were to convert the 199sq m second floor into two or three apartments, these could be leased at approximately $300 a week.
Migounoff says he knows of two building owners in Papakura's commercial area who have converted their buildings into flats and all 10 of them have been fully tenanted since their completion. One conversion is in a modern building, the other is in a character property.
"The flats have proved very popular because they are so central to Papakura's transport and shopping. There are three banks almost adjacent to this property with a Countdown supermarket only 100m away. The train and bus transport hub is also very handy, about a 250m walk away."
The two-level Star building was built as a picture theatre early last century and later was the premises of the Bank of New South Wales (now Westpac). It was also occupied by the Papakura RSA.
Around five years ago the building was reconfigured into six self-contained tenancies, with five retail tenancies at ground level and an office tenancy above.
Migounoff says the building still has many character features, especially upstairs where the heart rimu solid wooden floors could be retained and polished, with the sash windows providing a nice feature as well as the practical purpose of letting in natural light.
He says Bayleys has fielded recent inquiries for smaller shop space in Papakura but with the building for sale, any new lease would need to be decided on by the next owner. "The Papakura township services a large rural and lifestyle-block catchment area," he says, "and is popular with retailers."