179 Ridge Rd, Coatesville.
SIZE:
Land 2.03ha, house 316sqm.
PRICE INDICATION:
$1.3 to $1.5 million. Auction September 27.
INSPECT:
Sat/Sun 1-1.45pm.
SCHOOL ZONES:
Coatesville Primary, Albany Junior Middle School, Albany Senior College.
CONTACT:
Ailsa Robertson or Val Gardner, Bayleys, ph 487 0609, Ailsa 0272 984 000, Val 021 415 912.
FEATURES:
Two-storey solid plaster home in secluded setting with designer kitchen, separate office, home theatre room, and formal and informal living areas which open to sunny north-facing lawn and entertaining area around outdoor fireplace.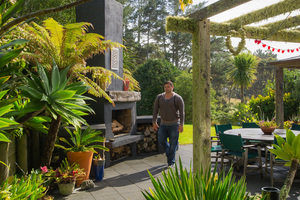 After playing and coaching in Britain for several years, former rugby league international Tony Kemp was keen to find a bit of rural paradise when he and wife Jan returned to New Zealand about 12 years ago with two young children.
Having stayed with a builder friend in Coatesville, they decided they liked the area and began looking for a piece of land so they could build a home. "Me and Jan both come from Taranaki so we kind of wanted to go back to our roots and get as close to the country-style feel as possible," says Tony. They found an ideal site down a right of way: private, sheltered by trees and overlooking a valley.
Tony, who is now the New Zealand Rugby League's high performance manager, designed the home with the help of his builder friend, including his own method of assessing how it should be oriented.
"I used to sit up on the hill with a couple of beers and watch where the sun was and how it moved around," he says.
He also helped to build the home and worked on the gardens and paths which surround it.
When the building platform was excavated, the earth removed was used to create the flat lawn and gardens - with drainage - to the north of the house.
Tony says the house was designed for family living, entertaining and low maintenance.
"Our daughter was 5 and our son was
3 when we moved in here so we've lived in this house with them from preschoolers to primary kids then adolescents and the house has been great through all that time."
The two-storey solid plaster home has some unique features such as macrocarpa posts which support the veranda and pergola, and rimu floors, architraves and skirting boards. The custom-made solid wood front door has two different sides because Tony and Jan couldn't agree on which look they liked the best.
And because he has a solid physique, Tony made the hallways and circulation areas oversized to feel comfortable. This is most noticeable in the airy double-height foyer leading to the open-plan kitchen, dining and family room. Here, the warm tones of the rimu flooring are matched by the timber sarked ceiling in the lounge and the kitchen cabinetry with rimu facing.
This space opens out to a patio which wraps around the house and culminates in an outdoor entertaining area with open fire that is directly outside the separate formal lounge, which has
a schist fireplace. And because entertaining is
a priority in this home, indoors and outdoors are wired for sound.
Beyond the patio is a flat lawn with layered gardens which feature primarily natives with cherry trees as a highlight.
Next to the kitchen is an office that was originally designed as a playroom, and outside that is a spa pool overlooking the valley. On the southern side of the house is a guest bedroom and bathroom.
A custom-made wrought-iron banister guides you upstairs where there are three more bedrooms, a bathroom and a home theatre /rumpus room which sits over the garage. As well as an en suite, the master bedroom has
a balcony for morning sun.
Tony, who had a stint as Warriors coach after Daniel Anderson left in 2004, says having this secluded property was a great way to escape the stresses of work.
"I was in the spotlight quite a bit so to be
able to come home and relax was really nice," he says.
The home also delivered the rural vibe the family wanted, with the kids raising lambs for the local school's agricultural day, and going eeling in the creek at the bottom of the property that meanders out to the Waitemata Harbour.
But now Tony, a "mad keen surfer", says he and the family are looking for a place closer to the coast.