22 Sentinel Road, Herne Bay.
SIZE:
Land 885sq m (approx), house 436sq m.
PRICE INDICATION:
Recent top sales in the street have ranged from $2.6 million to $4 million. Tenders close 4pm, September 25.
INSPECT:
Sunday 2-2.45pm or by appointment.
SCHOOL ZONES:
Ponsonby Primary School, Ponsonby Intermediate, Auckland Girls' Grammar, Western Springs College.
CONTACT:
Karen Spires, Bayleys, ph 027 273 8220.
FEATURES:
Grand 1920s Arts and Crafts home spread over three levels with guest apartment plus garden studio. Fully renovated with harbour views and heritage features including rimu-panelled entrance hall.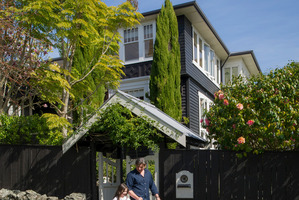 International TV commercial director James Holt has seen plenty of great locations but was instantly enveloped by the grandeur of this atmospheric 1920s Arts and Crafts home.
"You walk in and it just takes you over," James says.
The imposing weatherboard and shingle home's striking nature is heightened by black exterior paintwork. Most rooms, spread over three levels, enjoy harbour views. Clever renovation delivers modern ease without compromising heritage features such as chunkily beamed ceilings.
James bought it 12 years ago, shortly before meeting his actress wife Paola DeRoles-Holt. These days they share the house, its vivid sunsets and views of passing yachts and the Chelsea Sugar Refinery with their children, Pierre and Charlotte, and ragdoll cat Polly.
The home's ambience immediately won over James, who has directed big-brand international ads, working with talent such as Hugh Jackman and Sex and the City siren Kim Cattrall.
"I said 'Oh my God, I have to have this'."
Sunlight diffracts through the bevelled glass of the front door into a rimu-panelled entrance hall with a grand staircase. James says, "It's a big house but it feels cosy because it has defined spaces."
The morning sun bathes the front formal lounge and its original ornate oak fireplace surround imported from England. Through the day the sun travels round to the rear dining room with its languorously long stretch of window-seating and wide balcony. Paola says, "In the summer we have lots of beautiful dinners out on the balcony and can watch the kids running around on the back lawn." The lawn could fit a pool if desired.
A fine pair of mature pohutukawa glow red over summer. They support Charlotte's favourite swing and were hung with chandeliers for the couple's at-home wedding. Paola adores cooking in the New-England style kitchen which has double ovens and chequerboard-effect wood floors that continue into the laundry.
Her favourite spot is their spacious master bedroom upstairs. "I love sitting up in bed in the morning having coffee and looking out at the water. It's magical. It's hard to get up some times." The room has an adjoining study and there are two other roomy bedrooms on the level. This level's two renovated bathrooms complement the home's heritage, thanks to pedestal basins and tiny hexagonal floor tiles.
James comments, "It's a very family-orientated home but also quite a glamorous party house." He's good mates with LA-based Kiwi singer-songwriter Greg Johnson, who has been known to put on impromptu concerts in their lounge when he's been staying in the self-contained downstairs apartment.
A stairwell off the entrance hall incorporating a guest toilet leads to the apartment and a fully outfitted wine room, which takes 2500 bottles. The trove of storage on this floor continues throughout the home.
Elam graduate James uses the separate garden studio to paint but it also has bedroom potential. The couple had landscape designer Tony Murrell redesign their groomed garden, opening up family-friendly spaces and maximising privacy from neighbours. It's fully fenced and includes a double partially enclosed carport complementing the main home.
James is a big fan of their location's handiness to swimming at recently upgraded Sentinel Rd beach and the cafes and shopping of Herne Bay and Ponsonby.
Much of his work has been based out of Sydney and New York. The family are selling because after 12 years here they're ready for a new adventure.