You know how much you're prepared to pay, so why take so long to lay your cards on the table? Bruce Morris ponders the slow-coach tactics of the auction room.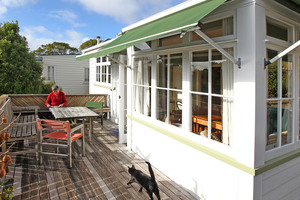 What is it with Aucklanders at auction - why have they become so coy?
If your only experience of auctions is from one of those British television programmes shown here on Sky where the hammer seems to fall every minute, you'll find the progress in most city auction rooms these days absolutely tortuous.
Outside booms, it's hardly ever been lightning. That's just the Kiwi way. But cautious times have been matched by plodding bidding - often ending in a bizarre spurt out of nowhere to win the prize.
So it's no surprise this August day in the Barfoot & Thompson city headquarters to find auctioneer David Johnstone musing: "Everyone's been to slow-bidding school!"
The property before him, a two-bedroom home at 2/20 Moata Rd, One Tree Hill, carries a year-old capital value of $360,000 and bidding between two parties comes to
a grinding halt at $350,000.
Quiet negotiation with the highest bidder eventually prises out another $10,000 and, as the minutes tick by, the price edges up. It's like drawing teeth. But when the bidding hits $385,000, the "now selling" sign flashes to indicate the reserve's been reached... and the room wakens.
Out of nowhere, four or five new bidders show their hands, pushing the price to $422,000 with bids down to $1000 and then $500 before the hammer finally falls.
While the vendors will be delighted to pocket $37,000 more than their pre-auction bottom line, the tactics are all a bit bewildering. An auction which could have been over in three or four minutes pushes the clock beyond 12.
Johnstone noted good-naturedly to the Johnny-come-latelies: "You sat there all this time! We could have been finished and be home by now!"
Auction room strategies and tactics change with the bidder and the only hard and fast rules are: do your homework on the property, secure your finance and don't go past the price you've settled on.
Today's bidders may very well follow those rules, but few people are interested in taking the fast track to the clack of the hammer. It is often a ponderous, painful trek and slows down the auction room dynamic, creating a long wait for other buyers.
Sure people need to be cautious about paying too much, but making two or three phone calls before deciding to go higher on each consecutive bid, and taking a couple of minutes to agonise over a $500 rise - what's that all about?
This auction day in early August offered further evidence that the Auckland real estate market is not boiling over in all corners, even if parts of it are bubbling away nicely.
The mid-winter timing during a spell of limited listings produced 37 lots (with a further 19 featured in a separate room), although five other properties sold pre-auction. Sixteen properties sold under the hammer, and deals on a number of others were no doubt sealed in the following week or so.
To get some idea how that sits alongside Barfoot & Thompson's "normal" auction results, look back at the company's June statistics which show 426 of the 510 auction properties were sold - 288 (56 per cent of the total offering) under the hammer, with a further 40 on auction day. Ten homes sold before auction and a further 88 drew deals in the following days. Eighty four properties (16 per cent of the total) were passed in.
The August auction was certainly no snapshot of greater Auckland, and featured only homes from Royal Oak, Onehunga, One Tree Hill, Greenlane, Mt Roskill, Ponsonby, Mt Eden, Lynfield, Remuera, Sandringham, Epsom and the CBD.
But it gave some interesting pointers to demand and again showed there is no consistent pattern to pricing, even in the suburbs within 6km or 8km from Queen St. Character homes are certainly pulling good prices, but elsewhere the regular headlines of stunning sales vastly above rating capital values may have raised expectations beyond reason for some vendors.
Of the 21 properties passed in, nine attracted no interest at all and several others drew just one low bid. As usual, a number of homes sold only after their owners chiselled a few thousand from pre-auction reserves to help entice highest bidders to part with a little more.
But there were some great results, not least at Moata Rd and especially in blue-chip Epsom where four sales went far beyond the expectations of owners (though three others in the same suburb were passed in with little or no interest, showing the market is still somewhat picky):
• 6/20 Domett Ave, a two-bedroom unit, which sold for $645,000 - $195,000 above its rating capital value and around $27,000 higher than reserve.
• 28 Wapiti Ave, a five-bedroom character home, which sold for $1.86 million - $760,000 above its CV and $186,000 higher than reserve.
• 2 Bishop St, a four-bedroom character home, which sold for $1.83 million - $660,000 above CV and $30,000 higher than a reserve which was dropped during the auction.
• 10 Ngaroma Rd, a four-bedroom transitional villa ready for renovation, which sold for $1.35 million - $180,000 above CV and $50,000 higher than reserve.
Beyond one or two relatively quick-fire lots, however, much of this auction day was slow and very deliberate.