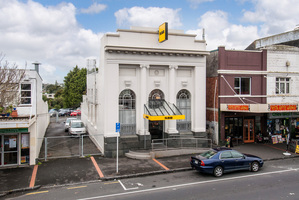 Affordable property on high-profile site should appeal to smaller investors.
A neo-classical 1930s ASB Bank building, in the heart of the Pt Chevalier shopping area is being offered for sale as an investment property with a long term lease in place to the bank.
The high-profile character building at 1210 Great North Rd, was one of a number of ASB buildings commissioned at the beginning of last century and was designed by Auckland architect Daniel Boys Patterson, whose landmark properties are still standing all around the country.
Scott Kirk, Bayleys Auckland city fringe manager, says the building features large amounts of decorative architectural elements from the period such as decorative ceilings, cornices and arches.
The property is in Bayleys' latest Total Property portfolio and is being sold by tender closing on September 25 unless it sells prior to that date.
It is being sold by the charitable trust Communicare CMA, a multi-cultural organisation which has Friendship Centres throughout Auckland for elderly, lonely or disabled people. Kirk, who is marketing the property with James Were, also of Bayleys Auckland office, says the trust is divesting of the bank property to channel funds into their core operation.
The Pt Chevalier ASB has 153 sq m of net lettable area with 96 square metres of high stud retail banking space at the front and 57 square metres of offices and amenities at the rear of the building, an area thought to have been added at a later date.
ASB's nine-year lease from 1991 includes eight three-year rights of renewal with a final expiry date of 2024, if all are exercised. The lease is producing net annual rental income of $35,242.
Kirk says the property will appeal to smaller investors because it is in the affordable price bracket for family trusts or individuals, but has future redevelopment appeal.
"The building covers less than a third of the 520 sq m freehold site, which currently provides a generous 10 on-site parking spaces with dual access from the front and rear of the site. With current zoning allowing a maximum four to one floor ratio, the site could be built on more intensively once the ASB lease runs out," he says.
"This is a stunning landmark character building with strong main road profile and a long lease to a blue chip tenant," Kirk says.
"There is future potential for investors to increase the return on the property, with the current rental at only $229 per sq m. A new owner could also look to strengthen the lease covenant by extending ASB's term beyond their current three-year commitment, perhaps in conjunction with a seismic upgrading of the building which is likely to be required in the future. Owner occupiers may also consider a future use for retail or showroom or office accommodation using the excellent car parking ratios and main road profile."
Kirk sold another Daniel Patterson designed former ASB property in Jervois Rd, Ponsonby earlier this year, with vacant possession, for $1,810,000. This two storey building is more than twice the size of the Pt Chevalier premises but on a smaller site.
Kirk says the Pt Chevalier shopping precinct is popular with tenants and investors because of its exposure to high traffic flows, good residential population base and relatively close proximity to Auckland's central city.
At Bayleys last Total Property auction, a two-level building on a 500 sq m site at 1196 Great North Rd, with its ground floor leased to Lab Tests and a cafe plus a flat above, sold for $1,055,000 at a 5.9 per cent yield.