319/28 College Hill, Freemans Bay.
PRICE INDICATION:
Similar apartments at Perspective have sold between $750,000 and $820,000 but none of these had a lawn area. Body corporate fees $8050 (includes water and gas and building insurance).
CONTACT:
Carla Pedseren, Ray White, ph 021 417 139.
FEATURES:
115sq m apartment, plus deck, with two bedrooms, one bathroom and two car parks, side by side. Use of the complex's 22m lap pool.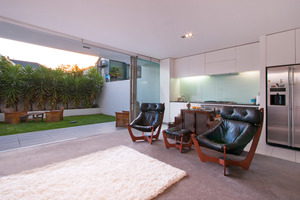 A private outdoors area clinched the deal when Kay Hart was deciding which apartment to buy off the plans in 2003 in the Perspective complex on Freemans Bay's College Hill.
"I wanted to live close to Ponsonby. I think it's a fantastic area," says Kay. "I had come from living in a big house with outdoors space, and here I could live on the city fringe and still have some space."
The only changes Kay and husband Stephen Bell made to the two-bedroom, ground-level unit, which faces England St, were a couple of tweaks to the kitchen layout.
Once completed, they moved into the new Grant Harris-designed, concrete and steel complex and enjoyed inner-city living.
Their apartment has two bedrooms as you come in, sharing a tiled en suite, with a hallway alongside to the lounge and kitchen. You also have the option to use the second bedroom as another living space as there is a large sliding door between this room and the lounge.
The kitchen is discreetly placed alongside the side wall - allowing ample space for meal preparation with the granite bench, Smeg 900mm-wide oven and benchtop gas hobs - handy to the deck, the stacking, sliding doors opening to make one open area. There's 150sq m of living space, including the deck and lawn.
The westerly aspect brings in the afternoon sun. "That is the perfect time for time for barbecues," says Kay. "And because you have the covered deck, you can use it year-round."
Another bonus is the apartment's gated access off England St.
Marcello's Caffe on the College Hill street front was a popular place for a rendezvous for the couple when they weren't out savouring the restaurants, cafes, bars and shopping all within strolling distance.
"It's a great area to walk around and it also has easy access to the motorways," Kay says.
She and Stephen lived here for a couple of years before moving overseas to work in Thailand and China. They've been away from New Zealand for six years. "It's been a hard decision to sell but we have no plans to come back at the moment and someone else may as well be enjoying the apartment."
She thinks it will appeal to young professionals or retirees. "It's a great place to lock and leave and if you do go away, you know the body corp is looking after the building."