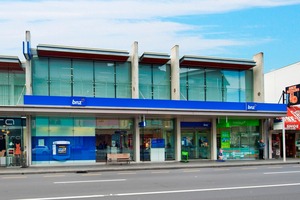 Bayleys is offering investors two attractive opportunities to invest in Newmarket's premier retail strip.
A BNZ Bank building is one of two properties at opposite ends of Newmarket's premier retail strip of Broadway up for sale as part of Bayleys' Total Property portfolio.
Developed by Newcrest Group for the bank six years ago, the two-level 1292sq m BNZ building at 320 Broadway has an extensive frontage of 30m on to Broadway with an additional road frontage of 38m on to Nuffield Lane.
The property, directly opposite Westfield's 277 Shopping Centre, is up for tender closing on September 28 through James Chan of Bayleys Auckland, unless sold prior.
Chan says the pavilion-style building is in a high profile location in Newmarket and, along with three other banks surrounding it, draws a substantial amount of foot traffic past it.
The BNZ has a 14-year lease from 2006 over 1178sq m of space and an expiry date on its lease of 2041 if all its rights of renewal are exercised.
There are two other small tenants, the Caleido stationery and giftware store, and Sera women's fashion outlet, which occupy shops of 58 and 51sq m respectively at one end of the building on short-term leases.
Chan says the leasehold property is currently returning net annual rental income, after ground rent, of approximately $675,000, with the bank payingmost of this. There is a lease in perpetuity on the 839sq m site, with seven yearly rent reviews. The ground lease has been structured so the land cannot be revalued beyond the existing use, meaning rental increases cannot be assessed on future potential use of the site or by the value of surrounding properties.
He says the property has the advantage of providing 43 secure basement parking spaces for tenants and their clients, accessed from Nuffield Lane - a bonus given the shortage of parking in Newmarket.
"This whole block was developed by the Newcrest Group which specialises in developing low rise, large floor plate, energy-efficient, commercial office buildings which have won the company numerous architectural and environmental awards in recent years," Chan says.
Newcrest focused on designing buildings that were not only attractive, but which had long-term usability from the occupiers' viewpoint creating a positive working environment where space was used efficiently.
The bank building was initially purchased from Newcrest by a syndicate of investors which is now rebalancing its property portfolio.
The blue chip tenant covenant offered by BNZ, its strong Newmarket location and high quality of improvements make it an attractive investment proposition, Chan says.
"Newmarket is still a popular choice for investors because it incorporates a strong mix of national chains and boutique retailers and has regional significance in the retail fashion industry."
He believes Newmarket's commercial area has continued to expand in both directions along Broadway, strengthening toward the south as a direct result of Westfield's 277 Shopping Centre and the Newcrest developments. "In addition, the new Remuera Railway Station square which has pedestrian linkages with Broadway and Remuera Rd has also helped revitalise the area and bring more pedestrians into it."
Also up for sale at the other end of Broadway is a seven-level standalone office and retail building with 35 secure covered car parks in the basement and on the first floor.
Located on a 736sq m freehold site at 23-25 Broadway, the 2345sq m building has four office tenants and two retail ground floor tenants producing total current net rental income of $547,783 per annum.
The property is for sale by deadline private treaty closing September 12, unless sold prior, through Colin McKenna of Bayleys Auckland.
The two ground-floor retail tenancies, of 250 and 283sq m, are set back from the road with full height modern window frontages, aluminium glazing and automatic glass entrance doors and have been fitted out to a high standard, says McKenna.
They are occupied by a bridal shop and a cycle retailer on six and five-year leases respectively from late 2011.
The office floor areas decrease in size with each level of the elevation and range from 572sq m to 193sq m. The floors are arranged around a service core, accommodating male and female toilets, lift lobbies and fire stairs, located on the southern side of the building.
"All office tenancies receive good levels of natural light from the building's extensive glazing, with the upper levels enjoying unobstructed views of the Auckland Domain, the harbour and surrounding suburbs," says McKenna. He says the property offers good prospects for rental growth in the short and medium term and the vacant naming rights may also present a further opportunity.
Built in the 1980s, McKenna says the building has been solidly constructed with reinforced concrete floor slabs and framing throughout and plastered concrete walls and has been maintained in good condition with a recently refurbished foyer.
The property is located at the northern end of the Newmarket retail strip, with surrounding properties encompassing a mixture of uses, including retail, offices and residential.