87 Empire Road, Epsom.
SIZE:
Land 611sq m, house 285sq m.
PRICE INDICATION:
Interest is expected above $1.75 million. Auction Sept 12.
INSPECT:
Sat/Sun 1-1.45pm.
SCHOOL ZONES:
Epsom Normal, Auckland Normal Intermediate, Auckland Grammar, Epsom Girls' Grammar.
CONTACT:
Paul Studman, Barfoot & Thompson, ph 524 0149 or 021 998 563.
FEATURES:
A 1920s bungalow with formal/informal living and large kitchen. Bathroom on each floor plus powder room. Under-floor insulation. Off-street parking for boat/trailer.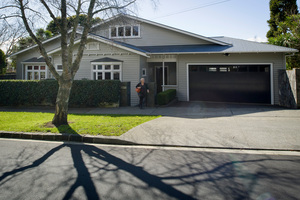 Mr Four Square clearly liked living here, judging by his famous smiling thumbs-up image. His was the welcoming face at the local Four Square Empire Foodmarket store in the days when suburban corner dairies were plentiful.
The dairy that ceased trading in 1978 has long since been demolished and its footprint blended into the garden surrounding the adjoining renovated 1920s Californian bungalow.
From the outside, times have clearly changed. Yet, from the way this home has delivered the Blakeley family the best kind of extended family living, it's clear there is just as much of a buzz in this sociable corner of Epsom as ever there was.
Andrea Williamson and Iain Blakeley bought this property almost nine years ago, simply because they loved it. The house had been tastefully renovated, with its bungalow features intact, and all they and their teenage children had to do was move in.
Now, the stories they can add to this home's history are proof of how well it has worked as a family home, with its flexible ground-floor living areas, large bedrooms and good bathrooms.
Friends have loved staying here for its proximity to the airport. This home has also accommodated extended family members on more than one occasion and that dynamic has worked well for all because of the layout of the home and its wide, wheelchair-friendly doorways and hall.
The downstairs bedrooms get the morning sun and they are close to the main bathroom, which has walls of glossy green and white tiles above a golden native timber floor.
As for the living areas that open off the kitchen, they have been wonderful spaces for entertaining, whatever your perspective.
Iain refers to the living area beyond the central fireplace by the dining area as the family room, whereas Andrea tends to think of the larger room across the hall as the family room because that's where everyone watches television.
Together, they have contributed to memorable family celebrations. On one occasion, Andrea moved the timber 10-seater dining table and bench seats out into the garden so that the couches from the family lounge across the hall could be moved nearer the kitchen for a special 85th birthday afternoon tea for 35 guests.
Four hired trestle tables set up in the family room easily accommodated the 24 guests who stayed for dinner that evening, a few of whom even stayed the night.
Functionality aside, this home's restful blue-and-white decor adds to its appeal. White walls in the downstairs hall show off art well, Andrea explains. They also enhance the character of the beam-and-panel ceilings and the casement windows and French doors.
Upstairs, all three large bedrooms have sloping ceilings, which adds to their character. At the end of one bedroom, there is a snug complete with a built-in day bed, bookshelf and low desk/storage unit fashioned out of what used to be a closed-off children's play area behind a child-size door.
Even this retreat has its own layer of history. A road map that had been painted on the wooden floor years earlier lies intact beneath the carpet for another family to reveal if they so wish.
With the Blakeley children all off on their own grown-up ventures, Andrea and Iain are setting their sights on downsizing.
"When you no longer need a big home it's rather nice to let someone else enjoy the chance of living in a neighbourhood such as this so they can enjoy it too," Andrea explains.