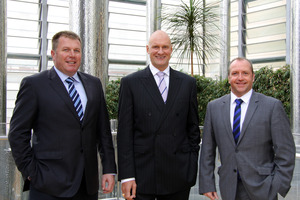 Colliers International has appointed Andrew Hiskens to lead its Auckland investment sales division, based at the agency's head office on Queen St. The team was previously known as Auckland metro sales. Peter Herdson remains national director of corporate and institutional sales.
Hiskens moves to the CBD after 11 successful years as head of Colliers International's North Shore franchise and remains a shareholder and director of the operation there.
Jimmy O'Brien has been promoted to general manager of Colliers International North Shore and is responsible for the day-to-day leadership of the franchise.
Charles Cooper, Auckland managing director at Colliers, says that during Hiskens' 10 years as head of the North Shore office, he built an industry-leading sales and leasing business, as well as a highly respected personal track record in the North Shore market. He says Hiskens' appointment will help Colliers achieve its goal of becoming the preferred supplier of services to the Auckland investment property sales sector.
Hiskens says increasing the number of properties Colliers takes to auction in Auckland is an important area of focus in his new role. "We embraced the auction process several years ago as a key method of selling commercial property on the North Shore, and last year held 57 auctions with a success rate of 83 per cent of properties sold under the hammer," he says.
Recruitment will be another focus for Hiskens, with a view to growing the team to about 20, covering an area from Silverdale to Drury.
O'Brien is in his sixth year with Colliers North Shore and is a regular member of Colliers "high performers' club" of top producers nationwide. He has led the North Shore industrial team since early 2008, notching up a successful track record which includes the sale of 10-12 Rothwell Ave, Albany, for $13.9 million - the largest industrial sale on the North Shore last year.