12 Landscape Rd, Mt Eden
SIZE:
Land 1115sq m (approx), house 310sq m (approx).
PRICE INDICATION:
CV $1.92 million. Auction August 22 (unless sold prior).
INSPECT:
Sat/Sun 1-1.30pm or by appointment.
SCHOOL ZONES:
Three Kings School, Mt Roskill Intermediate, Auckland Grammar, Epsom Girls' Grammar.
CONTACT:
Stanley & Barbara Armon and Kaycee Bell, Barfoot and Thompson Remuera, ph 021723 177 (Stanley) or 022 058 8600 (Kaycee).
FEATURES:
Largely original three-storey double-Grammar zone home on big section. Views, ripe for renovation. Features timber floors and panelling windowseats and dumbwaiter.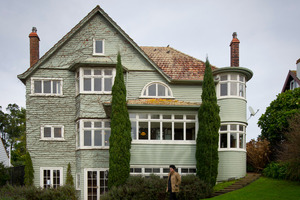 There's something of a fairy-tale flavour to this gracious character home. It has splendid views from its perch well back from the road in the upper reaches of Landscape Rd.
First, there's its "time stood still" aspect. "We made very few renovations while living at Landscape Rd," says Nick Wilson, whose parents bought the double-Grammar-zone, 1930s house set privately in large grounds 18 years ago. Character features such as wood panelling and floors, inviting windowseats and a gloriously original dining room have not been interfered with. Nick adds, "The house even still has a dumbwaiter, which is definitely something you don't see very often these days!"
There's also something epic about the three-storey home's bearing, standing proudly on elevated grounds, partially shielded by soaring conifers and commanding views.
There's a hint of Sleeping Beauty about the four-bedroom property, which a bit of work could take into a whole new era. (The mid-century kitchen and quartet of lower level storerooms could be reinvented.) But a smattering of tired aspects are more than compensated for by buckets of intrinsic character and the exhilaration of maximising the home's potential, rather than living with renovations which aren't quite your taste.
Nick and sister Antonia say their parents bought here in 1994 after living nearby, enchanted to find a grand house with spaciousness, a nice, homely feel and breathtaking views. From its elevated, northfacing site the home takes in the Sky Tower, Mt Eden, Mt Hobson and Rangitoto.
Antonia says, "When I was a child my schoolfriends used to say I was a princess because I lived in a turret," talking about her upper front corner bedroom which features a curved bow window. She loved her bedroom and a tomboyish streak meant she also loved joining Nick in treating the big front lawn as a cricket pitch.
Their friends were wowed by the house, which looks to be a local version of Queen Anne-style architecture. Its atmospheric wood-panelled entry hall opens to a living room and dining room divided by sliding wooden doors. There is also a conservatory-sunroom at the front. Living and dining rooms boast leadlights and old-worldy fireplaces in towering surrounds. The living room has a plaster ceiling while the dining room has a beamed ceiling, curvaceous corner windowseat and built-in sideboard.
"The biggest change was ripping up virtually all the carpet in the entire house to expose the wooden floors. When we initially discovered that the floors were so amazing it didn't take long before we liberated virtually every room in the house," Nick explains.
It's likely new owners will make over the kitchen (which already has a butler's pantry) and the rear laundry, which has a separate toilet nearby. During the Wilsons' ownership the dumbwaiter's rope has been pulled to give toys, rather than meals, a ride to the upper floors.
Up the timber staircase four bedrooms have double wardrobes. The master's front windowseat facing Mt Eden and Rangitoto has been a favourite fireworks-watching spot. Also on this level are a study, a small room used for toys, a separate toilet and the family bathroom resplendent with 1930s treasures - tiles of the period and a streamlined pedestal basin.
A large, lower-level room the Wilsons renovated has its own entrance and could be a rumpus-family room or home office. The Wilson children used it as a "teen pad".
Nick says, "Having such a large and private room to yourself as a teenager is incredibly satisfying. Also, having the French doors meant we could come and go as we pleased as we got older." This level also has four storerooms.
Now that the house is surplus to the family's requirements they hope another family will embrace its charms.