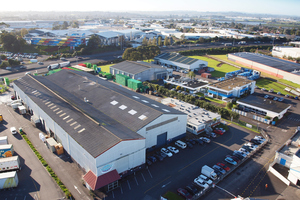 A 1.2ha industrial property opposite the Tip Top factory above State Highway 1 at Mt Wellington is for sale as a prime opportunity for a developer, investor or owner-occupier.
The property at 7 Monahan Rd will go under the hammer at the auction rooms of Colliers International at 151 Queen Stat 11am on August 29 unless sold by private treaty before the auction date.
"The site has excellent exposure to the Southern Motorway and to more than 100,000 vehicles that pass it every day, so it is a great place for businesses to be seen in Auckland's prime central industrial area," says Andrew Hooper, who is marketing the property with colleagues Todd Kuzmich and Greg Goldfinch.
"It also has good accessibility to the Mt Wellington motorway interchange and, for a developer, has the added attraction of good holding income.
"It is quite unusual for sites of this size to come on to the market in Mt Wellington so we do expect it to be of significant interest to developers and owner occupiers keen to maximise its potential value."
Goldfinch says that there are more than 4300sq m of warehouse and office buildings covering 37per cent of the site.
"Significant value could be added by dividing the existing building or constructing a much larger new facility. Either way, the property provides an opportunity to benefit from further development or to take advantage of the proven industrial market growth trends now at play in the Mt Wellington area."
The buildings comprise 3796sq m of warehousing with a stud height of 9.4m , multiple roller doors and a big hardstand yard and office and amenity spaces make up 535sq m of floor area.
Turners & Growers Fresh occupies the site, paying $350,000 in net annual rental income on a lease expiring in July 2014.
"That will particularly interest investors looking to develop the site in future, but having the benefit of holding income in the meantime, while they draw up redevelopment plans and go through the approval process," says Goldfinch.
"The property will also appeal to owner occupiers with vacancy rates being very low in Mt Wellington at present due to a heavy demand for industrial premises and tenants looking to buy and develop sites to suit their own requirements."
John Bowring, Colliers International's national auction manager, expects strong bidding because of the location, motorway exposure and potential for redevelopment.
He says Mt Wellington is considered one of Auckland's premier industrial areas, with excellent motorway access and a central location between the CBD, port and international airport.
"It is a very tightly held area with a short supply of properties, so those that do come on to the market generally get snapped up very quickly," Kuzmich says.
Colliers International research shows prime capital values in the Mt Wellington industrial market are expected to increase by 3.5 per cent over the year from March 2012. Prime rentals are expected to increase by 3.3 per cent in the same period.