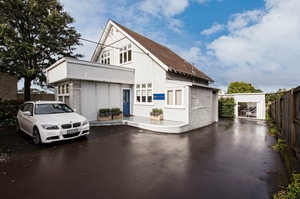 These top quality buildings provide excellent rentals and will appeal to long-term investors or developers.
Two adjoining commercial Remuera properties which that have been owned by one family for 50 years are for sale by tender with the opportunity to buy both or one of them.
Stuart Bode, of Bayleys Auckland, who is marketing the properties in conjunction with Henry Thompson, says large sites in the Remuera shopping precinct rarely come up for sale.
"This significant land holding will appeal to long-term investors with an eye for future redevelopment," he says. The two properties, fronting Remuera Rd and Norana Ave, are fully leased on a combined land area of 1396sq m and return a total net annual rental income of $123,708 plus GST. Tenders close on July 31.
The larger of the two is a 208sq m building at 295 Remuera Rd.
It is an attractive two-level converted house which is thought to have been built in 1919.
Bode says the interior was extensively upgraded in 2010 to provide high-quality modern office accommodation. It sits on a 784sq m site, zoned business 2 and produces a net annual income of $71,655 plus GST.
The property is leased to executive recruitment company John Peebles Associates with a right to renew the lease for three years.
There is a small studio to the rear of the site which is subleased to an associated company. There are three parking spaces at the front of the site and eight at the rear.
The property at 3 Norana Ave is a single-level, 180sq m California-style bungalow on a 612sq m site.
It was built in the 1920s but has been extensively upgraded and redesigned. Total Care leases this property as a hairdressing salon and beauty clinic and has exercised the first of two two-year rights of renewal. Total Care's two owners have been running the business for more than a decade.
Its rental will increase to at least $50,053 a year from September 1 as a result of a market rental review, with a minimum increase of 5 per cent.
A clause in the lease enables the landlord to to terminate the lease after September 1 this year to redevelop the site. There are eight parking spaces at the front of the salon and three at the rear which are accessed from Remuera Rd.
Thompson says the business activity 2 zone largely applies to traditional suburban retail centres, many of which formerly made up the main retail and commercial activity areas outside the central city.
"The object of the business 2 zone is to provide for retailing, office and commercial service activities at a medium intensity suburban level," Thompson says.
There are a wide range of permitted activities in the zone which includes offices, retail, restaurants and cafes, healthcare services, community facilities and residential.
"The property has a variety of options should a new owner decide to go down that route."