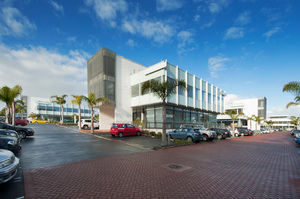 Long-term commercial tenants enhance investments.
Six commercial properties on the North Shore are offered for sale in Barfoot & Thompson Commercial's latest Insite portfolio along with a prestige tower office lease.
Marketed by Barfoot & Thompson North Shore Commercial are three retail and three industrial properties plus the office lease of a recently refurbished Takapuna tower block.
"Historically, most commercial properties in Insite have been on the Auckland city side of the harbour bridge," says David Mayhew, manager of Barfoot & Thompson North Shore.
"However, since taking management of the North Shore Commercial office, we have focused on leveraging off our extensive residential agency network, which is second to none, to compile a portfolio of commercial properties with long leases in the sub-$2 million to $3 million range that will be sure to appeal to family trusts and high net worth individuals."
At 4 Orbit Drive Mairangi Bay, Units G2 & G3, 4 Orbit Drive, are being marketed by Mayhew, and colleague Matt Kirkbridge. They will be sold by auction at 1pm on Thursday, August 16, at Barfoot & Thompson Commercial's auction rooms, Level 4, 50 Kitchener St, Auckland.
"These are stunning architecturally designed offices within the prestigious Interplex Business Park in Mairangi Bay," says Kirkbridge. "This office investment property is part of a Northbridge Properties constructed office park that includes other quality tenants such as Bosch, Lodestar and Proctor and Gamble."
The Business 9-zoned property is tenanted for six years from November 1, 2011, by Hobbs Global Logistics Solutions, a freight forwarding company, with a further right of renewal for six years.
Hobbs has been in business for over 30 years and has occupied the premises since 2007. The units are currently returning $157,000 per annum net with nearly six years to run on the lease and one further right of renewal of 6 years.
The total area of 525sq m comprises 475sq m of first floor offices and 50sq m of second floor space plus 15 outdoor car parks.
For sale through Dave Fisher at auction at 11am on Wednesday, August 9, at Barfoot & Thompson North Shore Commercial's offices at 87 Hurstmere Rd, Takapuna, is a Business 2-zoned property at 200-204 Hinemoa St, Birkenhead, comprising four commercial and two residential tenancies generating net annual rent of $81,608. Fisher says the mostly block and brick plastered commercial building fronting Hinemoa St was probably built about 1920-30 but has been subject to a series of improvements.
"The roof of the building has all been replaced in the last two years and the balance of the exterior is to be repainted shortly.
"The property's location in the heart of Highbury next to Birkenhead Library makes it easy to find for the customers of the well established tenants. An alterations shop has been there over 13 years, the hairdresser over 25 years and the locksmith 30 years. The longevity of these businesses indicates how appealing the location is to the right tenants."
The property has a total land area of 1048sq m with nine unit titles.
Mayhew is also marketing for sale at the August 16 auction, with Bruce Jiao, Unit 8, at 100 Don McKinnon Drive, Albany. The total 485sq m of retail space is split into two tenancies occupied by nationally branded tenants Active Physio and North Shore Hospice.
"The property is part of the established Northridge Plaza Retail Centre in the heart of the Albany City Centre and opposite the Albany Westfield mall," Jiao says. "The complex was built by the Neil Property Group about 10 years ago and has low vacancy rates." The two tenancies have a combined rental of $151,000 per annum net.
A third North Shore building being marketed by Mayhew and colleague John Newton, is the AMI building at 529 Lake Rd, Takapuna, which is for sale via private treaty.
On a freehold title of 959sq m with a net lettable area of 2283sq m, the mixed use three-level commercial building comprises five ground level retail tenancies ranging in size from 33sq m to 98sq m; a restaurant of 352sq m facing the Como St frontage; a retail/office tenancy on the ground floor Lake Rd frontage; and an office tenancy on the first floor.
The building, generating annual rent of $505,922 net, was constructed in 1973 and comprises reinforced concrete strip fittings with a structural frame of columns, beams and Stahlton floors. Exterior walls are stack-bonded block work with a Brownbuilt low pitch roof.
Newton says the current vendor has undertaken a major refurbishment to the building's exterior including chemical wash, replastering blockwork and repainting of the exterior facade.
"The stairway from Lake Rd to the Como St retail tenancies has been reconfigured to provide better visibility and access, and the Como St retail frontage has been retiled. Additionally, the streetscape has been upgraded with new stainless steel and glass handrailing."
Agent Chris Brosnahan is marketing for sale a large centrally located industrial manufacturing property at 24-26 Poland Rd only 900m from the Tristram interchange of the Northern Motorway.
The property, leased by Chemicolour Industries on a 12-year lease from June 30, 1999, with an eight-year right of renewal, comprises two large portal-framed warehouses each with two levels of office, laboratories and amenities. The buildings total 4315sq m on a freehold rectangular site of 7008sq m.
The asking price for the industrial complex, which generates annual rent of $435,500 plus GST, is $5,124,000 plus GST, if any.
"The property is centrally located within the Wairau Industrial area on the south-western side of Poland Rd approximately 100m south-east of the Hillside Rd intersection and about 400m north-west of the Archers Rd intersection," Brosnahan says.
An industrial investment property marketed by Craig Newth and included in the August 16 auction comprises a building area of 648sq m on a freehold land area of 956sq m at 126 Sunnybrae Rd.
The property is occupied by two tenants on medium terms leases: a road frontage artworks sales showroom of around 263sq m selling retail items including artwork; and a rear auto mechanical business occupying a workshop/warehouse comprising a medium to high stud of up to seven metres within a clear span building of 385sq m. The property has net annual cash flow from its two tenants currently of $66,800.
"This is a great opportunity to own this stand-alone industrial property with main road exposure in the ever-popular and tightly held Wairau Valley," says Newth.
The prestige tower office lease offered by Newton within the Insite portfolio, comprises the 466sq m top floor (or part thereof) of the landmark Takapuna office tower at 19-21 Como St.
"This 12th floor office area has exceptional views out to the Hauraki Gulf and over to the Auckland CBD," Newton says. "The building, which has easy access to all the motorways, has undergone a $4 million refurbishment, which includes a high level, glazed front entry foyer with a new cafe."