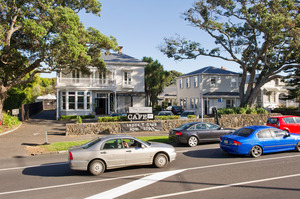 A large mixed-use retail and office complex, with a top-rated cafe as a tenant and in Auckland's trendy suburb of Mt Eden, has been placed on the market for sale.
Located on the western side of Mt Eden Road, the property comprises three interconnected buildings called The Village which have been divided up into 20 office and retail spaces ranging from 18 to 30sq m in size, as well as a ground floor cafe.
The 1219 sq m site at 465 Mt Eden Rd houses an original two-storeyed villa which was built in 1882 for Judge Puckey, one of the first land court judges in New Zealand. The villa was subsequently used as medical rooms in conjunction with the former Rawhiti Hospital, and was divided into three flats in the 1960s.
The restoration and redesign of the villa into commercial and retail offices was completed in early 2006. The two and three-storey building extensions were designed to complement the villa in style and were completed in 2007.
The entire complex is now up for sale through James Chan, of Bayleys Auckland, with expressions of interest closing on August 3. The property, which is part of Bayleys' latest Total Property portfolio, is producing total income of just over $500,000.
Chan says the three buildings are linked to provide a comprehensive suburban office complex specialising in small office suites leased to individual businesses. All of the offices have been wired for high-speed internet and have air conditioning and heating. There are 15 onsite car parks.
The Village's tenants include businesses operating in the retail, property, accountancy, IT, insurance and automotive industries.
The ground floor of the main villa is occupied by the Altar Cafe which was voted among the top 50 cafes in Auckland last year by Metro magazine.