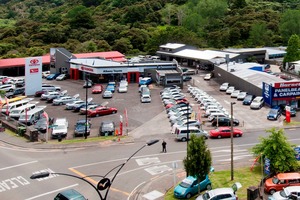 An investment property occupied by the Albany Toyota dealership on a long lease in fast-growing Albany, on Auckland's North Shore, is up for auction.
The corner property at 252 State Highway 17 and 8 Gills Rd is being marketed by Andrew Hiskens and Jimmy O'Brien of Colliers International and will go under the hammer on June 27 at 151 Queen St, Auckland, unless it is sold before.
The 6967 sq m property is spread over seven titles but is being sold as one parcel, Hiskens says.
"The tenant, North Albany Motors (trading as Albany Toyota), is a well-established business and very successful Toyota franchise," he says.
"Toyota has been on this site for over 20 years, having been run by North Albany Motors since 1991.
"The property and business are therefore well known to locals and a familiar presence on State Highway 17.
The dealership is well recognised as being one of the brand leaders for Toyota in New Zealand.
"It benefits from an iconic corner site with excellent visibility, and the tenant has invested considerable expense over the years to ensure the property exceeds Toyota's rigorous standards for the presentation of its dealerships," he says.
The property is leased to North Albany Motors until 2017, with the right to extend for two further terms of six years each.
Net annual rental income is $381,500 and the rent is reviewed every two years, giving the potential for future income growth.
The property houses four main buildings providing around 2100 sq m in total floor area and ample yard space.
The main showroom and office building was constructed in 1992 and is an irregular-shaped, single-level structure featuring extensive glazing.
"The showroom was extensively refurbished three years ago, resulting in a very well-presented and customer-friendly facility," says O'Brien.
Three other buildings are also on site.
Two workshops house modern seven-bay and five-bay vehicle servicing areas and behind the showroom is a 570 sq m warehouse for sales of parts and accessories.
Comfortable customer waiting lounges are also provided in the showroom and service areas.
"Dual street access points from Gills Rd and 'test-drive-friendly' roads surrounding the property further enhance the property's convenience for North Shore customers," O'Brien says.
"The property is located on an easily accessible corner of the intersection of State Highway 17 and Gills Rd, surrounded by other automotive industry occupiers.
"The immediate vicinity makes up an automotive hub, with eight car-dealerships within a stone's throw of each other, so it's well known to locals as a new and used car shopping destination."