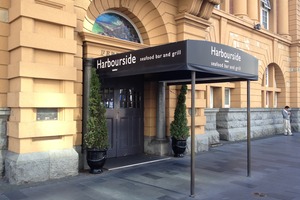 Popular, well-established restaurant for sale in 100-year old building.

Auckland's popular Harbourside Seafood Bar & Grill, in the historic Ferry Building on Quay St, is being offered for sale as a going concern.
The business is offered within leased premises for an asking price of $785,000 plus stock of about $60,000, through Greg Mullins, hospitality business broker at Link Business Broking.
"Since it opened in 1988 in downtown Auckland City, Harbourside Seafood Bar & Grill has established an enviable reputation as one of New Zealand's best known and most successful seafood restaurants," Mullins says. "Over the years it has won numerous awards and accolades, including a recent Top 50 placing in Metro magazine's Best Restaurant awards for 2011, so it is not surprising that after 24 years it is still such a popular venue for both Aucklanders and visitors to the city alike."
The restaurant occupies the entire 674sq m first floor of the Ferry Building, plus 206sq m of balcony and is easily accessed by either stairs or lift.
The premises feature a classic decor with seating for 200 customers inside and 140 on the balcony.
Staff cater for romantic tables for two through to groups of over 100 who are offered a selection of quality New Zealand fresh and worldwide sourced seafood dishes along with other contemporary dishes and an extensive range of New Zealand and international wines. Facilities include a private dining area with its own balcony for over 40 patrons.
Harbourside occupies the building on a lease until April 18, 2024, if all rights of renewal are exercised.
"Tony Adcock and Jimmy Gerard, who originally set the restaurant up together and have run it throughout this time, have finally decided to sell the restaurant and take life a little easier," Mullins says.
"Tony and Jimmy are both veteran and successful restaurateurs who have benefited from the prime position of the restaurant along with their emphasis on quality food and beverage, great service, keeping pace with current trends, good sound operating systems, well-trained staff, and a focus on having fun.
"Harbourside's success can also be the building itself and its location with easy access to CBD offices and retail area, Britomart and the central train station, Viaduct harbour, the Princes Wharf cruise ship terminal, the harbour ferries and Vector Arena.
"The five-storey Ferry Building is a striking heritage building and a major drawcard. It was built on reclaimed land using sandstone and brick in the style of Edwardian Baroque and opened in 1912 so it is celebrating its 100th birthday this year."
Mullins says the building was extensively strengthened and refurbished in 1988 "so it not only looks great but it is also very sound structurally which is an important consideration for any new owner looking to operate a restaurant in an older building these days".
Profit and turnover figures will be made available to qualified buyers.
"The business is not only generating sales that are easily higher than 90 per cent of other restaurants but it is also showing a healthy profit. Given the brilliant location, the revitalised interest in the hospitality industry, especially in the Auckland CBD, and the proven history of the site, the sale of Harbourside represents an extraordinary opportunity for experienced operators to secure this incredible site at a very realistic price and develop their own concepts."