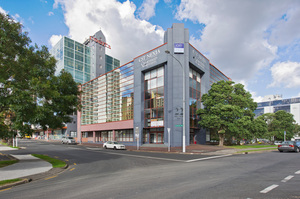 Space is being offered for lease on two levels of an attractive four level building at 22 Amersham Way in the heart of the Manukau town centre, close to Westfield Mall, shops and cafes.
"The rental rates are competitive at $200 per square metre with full market incentives available, commensurate with the lease term," says Scott Whitten of Barfoot & Thompson Commercial who is marketing the space for lease under a joint sole agency with Lauren Phillips of Jones Lang LaSalle.
"A feature of this building is the low operating expenses of $60 per square metre which contributes to a low total occupancy cost in the $260 per square metre gross range," Whitten says.
Up to 25 car parks are available with space leased. There is also ample street parking available and more long term parking nearby.
The total space for lease on two levels is 1163sq m comprising 397sq m on level one, and 332sq m and 434sq m on level two.
The second level floor square could also be leased as a combined 766sq m area.
Whitten says building was constructed in the 1990s and has been occupied by a succession of professional and government tenants, including long term naming rights tenant, CST Nexia Accountants on the top floor.
"The other significant tenant is the government Legal Services Agency which provides legal aid services to people facing court charges in the community.
The agency was attracted to the building by its closeness to the nearby Manukau courts and it has recently taken a further 360sq m in the building in addition to its ground floor tenancy."
"The building is well placed for a range of likely tenants from local businesses such as law firms and accountants through to government and local government uses. It is an ideal location for tenants from suburban areas like Papatoetoe, Papakura and Manurewa who are looking to enhance the professional image if their business."
Whitten says the building contains well designed existing fit outs ranging from open plan to fully fitted out spaces which can be used "as is".
The space for lease could also be fully refurbished or replaced with new fit outs. It has good natural light to the north, west and south and is fully air conditioned as well as being serviced by a single lift.
The building is managed by Property Managers Limited of Tauranga under a fully managed Property Syndicate.
"Property Managers are keen to work on behalf of their clients to lease up the remaining vacancies and will be offering a range of incentives to prospective tenants which will place Amersham Way at the top of the list for tenants looking position themselves in the Manukau area," Whitten says.