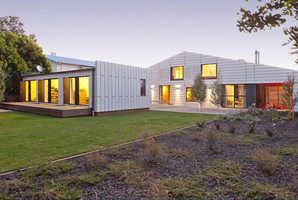 Tighter rules on new houses in character suburbs are needed, says Auckland councillor Sandra Coney.
She was commenting on a disputed decision in which a box-shaped modern house was approved in Grey Lynn despite concerns about its effect on traditional houses in the street.
Auckland Council staff are divided over the new design for 58 Hakanoa St.
Heritage specialist Bryan Pooley says it "differs substantially from the traditional houses in the street", but heritage architect Garry Glasgow says it does not dominate the local character and meets the policies and objectives of the district plan.
Resource consents team manager David Oakhill said the proposed house - which has minimally pitched roofs, precast concrete panels and aluminium windows - was obviously not a 1920s bungalow replica, but that was not necessary for it to be compatible with the the surrounding area.
But Ms Coney, who chairs the heritage panel and the parks, recreation and heritage forum, said the council was not getting it right with replacement buildings in character suburbs.
She said they might conform to the letter of the rules, but there were real problems with bulk and appearance.
A case in hand was a house at 28 Arnold St in Grey Lynn, she said, which had a big blank face that didn't fit with the character of the street.
"One of the things about older houses is they are broken up on their face to the street with porches and windows and a bit of a comfortable look," she said.
Ms Coney said she wanted the heritage panel to discuss the issue of replacement buildings and unsympathetic extensions. Another issue was the move away from modest workers' houses such as Hakanoa St towards bigger houses reflecting increased wealth and a different lifestyle.
The new house at 58 Hakanoa St - owned by Daniel Birt and Justine Muxlow - was granted consent even though it infringes the height to boundary rule, the front yard set-back rule and covers 46 per cent of the site when the maximum allowable is 35 per cent.
Ms Coney said Auckland could not continue with current rules and everything hinged on the unitary plan - a new district plan for the Super City - delivering a better heritage outcome.
Mayor Len Brown, who has promised to do more to protect heritage, was reluctant to be drawn into the Hakanoa St case yesterday and say whether council planners were in step with the community will to protect character suburbs.
"As part of putting together the upcoming unitary plan, and in recognising previous heritage issues and community concerns, the council is working to give greater protection to heritage and historic character buildings," Mr Brown said.