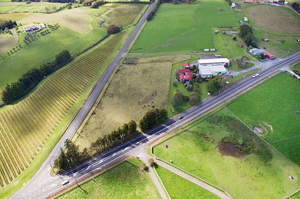 A large elevated corner site near Kumeu, north west of Auckland, is on the market.
The site at 505 and 507 State Highway 16 comprises 2.6ha in two titles with approval for the immediate development of a motel. It also currently provides an income of $120,000 a year from a number of existing houses and commercial buildings.
The two sections, 2.0158ha and 5738sq m each, can be bought individually or together.
Included in the sale is a full financial feasibility study strongly supporting the proposed development and full working drawings for a 17-unit motel. Transit New Zealand reports that about 20,000 vehicles pass the front gate every day.
Bayleys North West salesmen Terry Jones and Ian Sergeant are marketing the property through a tender process closing on May 23.
The Kumeu-Huapai district has been identified as a significant growth zone in the Auckland Regional Growth Strategy for the past 13 years with considerable focus being allocated to planning for ongoing population expansion. Access to the region was accelerated further last year when an extension to the North-western Motorway was opened up.
Sergeant says that over the past decade the Kumeu, Huapai and Waimauku region has become one of Auckland's most popular destinations for weddings, functions and conferences.
Wedding venues within the immediate vicinity include Kumeu Valley Estate, Gracehills Vineyard Estate, Markovina's, Soljan's Estate Winery, Settlers Country Manor, Allely House and The Brigham.
"These wedding venues have become immensely popular with Aucklanders wanting a great place to celebrate and yet be within easy commuting distance from the city," Sergeant says. "The area now also needs accommodation developments to service this growing market like the one proposed."
Jones says Kumeu business operators and community groups have also been extremely pro-active in developing an extensive calendar of tourism-related activities, from the hugely popular A&P show and hot rod exhibition, to a food and wine trail and music festivals.
"At present the region is serviced by some outstanding boutique-sized lodges and B&B establishments offering cottage-style accommodation but just for a very small number of guests at a time.
"The consented plans for this site would provide comfortable accommodation for up to 50 guests, making it one of the biggest accommodation providers in a catchment area stretching from South Head, across to Kaukapakapa, and down to the top of the North-western Motorway."
The property is next to the Kumeu River Vineyard, which produces and exports a variety of first-class wines. Jones says the site's owners were Kumeu farmers who spent a lot of time and money getting the approvals but have opted to stay farming and sell the land to a developer with experience in the hospitality and tourism sector.
While the land has consent for a motel, Jones says that with the appropriate council consents the location could also be developed into a small retail hub consisting of convenience food and beverage outlets, liquor store, video outlet, pharmacy, bakery, or a fruit-and-vegetable shop.