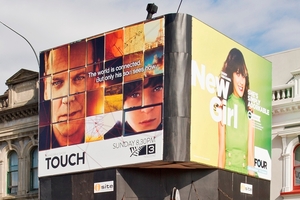 Sale of two prime sites gives buyers opportunity to capitalise on being in a bustling inner-city area.
Two Auckland city fringe character buildings in Newton and Eden Terrace are being sold by Bayleys.
A three-level building at 145 Karangahape Rd is for sale by tender closing on May 31 unless sold earlier, and a second three-level older building at 223 Symonds Street will go under the hammer on June 6.
Alan Haydock of Bayleys Auckland, who is selling the Karangahape Rd property with colleague Cameron Melhuish says the building has three well-established retail tenancies.
It also offers plenty of opportunity to add value through the leasing of recently refurbished office space and further development.
The 1017sq m building, on 446sq m of land, has two ground-level shop and one on the basement level, producing net annual rental income of $143,254.
There is also 331sq m of vacant first floor office space that has recently been refurbished.
"This offers a great opportunity for an owner occupier to create edgy business premises in a proven creative location and benefit from income from the premises below," Haydock says.
"Alternatively an investor could add immediate value to the property by leasing the space up."
He says there are other appealing options for a new owner.
"There is plenty of scope to further refurbish and redevelop the building, with existing income in place to help.
"With generous development parameters in this Karangahape Rd precinct and extra land at the rear of the property, a new owner could also capitalise on the opportunity for further intensification of this site."
The property has a Karangahape Rd precinct strategic management area 4 zoning, permitting a wide range of activities and allowing a development ratio of between four and six square metres of floor space to one square metre of land, up to a maximum height of 35m.
Haydock says the precinct has generally low to medium rise character retail buildings and an increasing number of higher intensity residential and commercial developments.
"In recent times, a significant amount of money has been invested in the precinct in the refurbishment of properties, which has increased the number of office workers and residents and therefore the amount of foot traffic.
"A repaving of the footpaths, and an overall improvement in streetscapes coupled with an increase in the variety and quality of cafes, bars, fashion, entertainment and service tenants, has made the area more appealing.
"The property for sale is in a prime spot on K Rd, just west of its intersection with Queen St and close to Myers Park. This section of Karangahape Rd, between Queen St and Pitt St, has the heaviest foot traffic flows in the precinct, so there is a high demand from a range of businesses for retail and office space within this popular and thriving area."
At the ground level within 145 Karangahape Rd are two shops, the largest of which is 180sq m occupied by The 123 Mart chain since 2005 on a lease with a final expiry in mid-2014.
The second, a 160sq m ground level shop tenanted by clothing and accessories store Recycle Boutique (Paper Bag Princess), is on an eight-year lease running until 2016.
The 345sq m basement is occupied by Fuzzy Vibe Junction, an eclectic clothing store on a three-year lease with one three-year right of renewal.
Haydock says the large open plan upper floor area has character elements, including an ornate exterior, polished floors and high stud space with plenty of natural light, which would suit a creative or professional business.
It could also be converted into one or more large inner city apartments or into a desirable live and work premises. Further floors could possibly be added to the building.
The property is close to the CBD, main transport routes and within 500m of on and off ramps to the SH1 and SH16 motorways.
Melhuish says the 326sq m vacant building at 223 Symonds St is on a 220sq m site and has an under-used basement area, with vehicle access, ground floor premises and high stud character first floor space with sweeping city views, lending itself to possible residential conversion.
"The property has a favourable underlying mixed use zoning, permitting retail, office or residential use or a combination of all three.
"The zone is designed to allow the development of vibrant areas by enabling a mix of residential, business, educational and leisure activities in parts of the city which have easy access to public transport systems."
The upper two levels were recently used as a bar and function centre, with a separate kitchen area to the rear of the ground floor.
The building draws annual rental income of $34,278 plus GST from the lease of large billboards on the front and side of the building reflecting its high profile position on the western side of Symonds St with exposure to heavy traffic flows along Symonds St and Khyber Pass Rd.
Melhuish says the property is surrounded by other classic early 20th century buildings with a mix of ground floor retailing and upper levels of either offices or apartments or a combination of both.
"There have also been substantial new residential apartment developments in the area over the past five years which has seen the local population increase notably.
"It's popularity as a residential location has been enhanced by its fringe CBD position, with motorway interchanges close by.
"It is well serv ed by bus and train public transport and is inside the Auckland Grammar Zone."