71 RIVERLEA RD, WHENUAPAI
SIZE:
Land 1.25ha, house 576sq m (approx).
PRICE INDICATION:
Interest expected over $4 million. Set sale date May 8.
SCHOOL ZONES:
Whenuapai Primary, Massey High School. Also handy for private schools Kristin, Pinehurst and ACG Sunderland.
CONTACT:
Logan Gilbert, Premium Real Estate, ph 021 242 7241 or 970 2170
FEATURES:
Luxurious waterfront property with a reserve and water on three sides. Pool, tennis court, pontoon, paddock and huge lawn. Separate one-bedroom apartment. Twenty-five minutes to CBD off-peak and handy to shopping complexes at Westgate and Albany. Also within easy reach of golf courses, vineyards and beaches.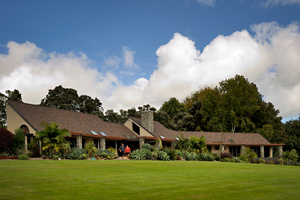 Mark Engel has owned his Whenuapai property for eight years but he never ceases to feel a sense of pride each time he drives through the security gates and along the tree-lined driveway towards his house.
"I still think, 'Wow, I live here', especially when I look across the lawn to the water," says Mark. "It is a pretty amazing place."
The waterfront property, Taipari Point, occupies a headland at the end of a no-exit road. It faces north and the house is positioned to look out across an enormous lawn to the Waitemata Harbour. With its stunning location, impressive entrance way, landscaped gardens, heated swimming pool and floodlit tennis court, Taipari Point feels like an exclusive resort, which is exactly what Mark was after when he bought it in 2004.
His wife, Julia, had multiple sclerosis and because it was difficult for her to get around, Mark wanted a home that would make her feel she was somewhere special - like a luxury lodge - as well as providing a restful retreat.
The house, which dated back to the 1970s, was given an extensive makeover. "We pretty much had it gutted and rebuilt, and we extended it, making it a lot bigger," says Mark.
Doorways were widened, cavity sliders put in and the master bathroom laid out to make it wheelchair friendly. Mark and Julia chose natural building materials like schist, glass and wood to give the home a classical feel that wouldn't date and put in lots of added extras, like a separate butler's pantry in the kitchen and a pizza oven out on the patio.
"It's been great having that," says Mark. "We have guests over and we all make our own pizzas and then cook them up."
Nearly all of the rooms feature soaring cathedral ceilings and most of them open out to the north-facing patio that runs the length of the dwelling. The house is mostly on one level and designed to make the most of the outlook and the sun.
Entry is up a ramp past a water feature and through an oversized front door to a foyer that has an inlaid stone mosaic panel in the floor. The formal lounge has a dramatic cedar tongue and groove ceiling along with a huge wood-burning schist fireplace. Off this is a library, while Mark's office is by the front door.
A hall to the left leads to a wing comprising two double bedrooms, a bathroom and the rumpus room. To the right, a doorway leads to the most used part of this huge house - the open-plan kitchen, dining and living room. Bifold doors from here open to a section of the deck covered by an automated Louvretec roof, while a large picture window frames the scenic water view.
A flight of stairs leads up to a guest bedroom with en suite, which has lots of storage under the eaves. Downstairs again, the spacious master bedroom is off the living area and includes a walk-through closet as well as the enormous en suite.
A cloakroom and laundry complete the layout of the main house. A double garage with a generous workshop and storage links the house to a fully self-contained studio comprising a living room, kitchen, bedroom and bathroom.
Though the house is impressive, it is the grounds that make Taipari Point truly spectacular. From the deck built over the water's edge, to the floating pontoon and the summer house, through to the hidden sunken garden, the rose arbour and the paddock, it is a unique property that Mark feels privileged to call home.
He's so proud of it that over the years he has opened up Taipari Point to guests and held concerts for up to 400 people on the expansive lawn.
"It's been nice to share it, and people just go 'wow' when they first see it," says Mark.
Sadly, Julia died three years ago and the couple's two adult daughters have left home. Mark has a new partner, Jennie Neville, but the house is far too big for the two of them.
"It's such a waste - a property like this needs a family," says Mark. Or else, he suggests, it could be used as a luxury B&B or even a wedding venue.