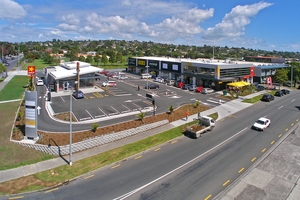 We weren't expecting the yields to go as low as they did but again it's a reflection of the strength of the sub-$1 million sector of the market.Chris Bayley, Bayleys commercial and industrial sales manager The under-the-hammer sale of all nine retail units in the Merton East Convenience Centre in St Johns, and the sale of one of Newmarket's oldest retail buildings for $4.1 million were highlights of Bayleys' latest Total Property portfolio auction which resulted in 20 sales with a total value of more than $20 million.
Bayleys' Auckland auction room was packed to overflowing for the event which started at a frenetic pace with bidding on a Columbus Coffee outlet in the recently opened Merton East Convenience Centre beginning at $500,000 and quickly progressing to $830,000 when it was announced "on the market". More than $100,000 worth of further bids followed, with multiple investors competing strongly with each other before the hammer finally came down at $970,000, representing a yield of 5.3 per cent. The 112sq m unit was sold with a new 10-year lease and annual rent reviews of 4 per cent compounded.
It was a similar story on three smaller takeaway food outlets in the convenience centre which all sold at yields of less than 6 per cent following fierce completion from a large number of investors, with bidding getting down to $1000 increments.
A 71sq m Bruce Lee Sushi outlet sold for $513,000 at 5.55 per cent yield, the 95sq m Spice Traders Bombay Blue Indian and Kebab eatery sold for $651,000 at 5.75 per cent yield and the 76sq m Global Stir Takeaway sold for $585,000 at a 5.67 per cent yield. All three were sold with new eight-year leases, with rent reviews two-yearly to market.
Chris Bayley, Bayleys commercial and industrial sales manager, said both the agency and the vendor were pleasantly surprised by the intensity of the bidding for these smaller units.
"We weren't expecting the yields to go as low as they did but again it's a reflection of the strength of the sub-$1 million sector of the market. There was very little, if any, blow out in yields for strongly located and well tenanted smaller retail units during the property downturn. Now that that the market is showing signs of picking up again, it seems we are actually experiencing some tightening in yields for this type of stock. We would expect this to continue while interest rates remain at very low levels and there is an imbalance between supply and demand."
There was also strong bidding on the convenience centre's larger offerings, although their higher yields reflected the greater perceived tenancy replacement risk of bigger units, said Bayley.
A 207sq m Liquor Spot outlet sold for $855,000 at a 6.92 per cent yield, the 208sq m St Johns Butchery sold for $861,000 at 6.96 per cent, a 271sq m Jetts 24-Hour Gym went for $990,000 at 7.4 per cent and the largest retail unit on offer, a 297sq m Green Fresh Fruit & Vege store fetched $910,000 at a 9.07 per cent yield. All the units have 10-year leases, apart from Jetts Gym where the term is eight years.
The final unit to sell in the Merton East Convenience Centre was a 309sq m office floor above the retail shops leased for five years to steel framing company Framecad, which also attracted good bidding before selling for $655,000 at a 7.79 per cent yield.
The units in the Merton East Convenience Centre are positioned on a high profile site at the roundabout intersection of Merton Road, Felton Mathew Avenue and Morrin Road, the main road into the University of Auckland's Tamaki campus and were marketed by Ed Donald and James Chan of Bayleys Auckland on behalf of Argyle Estates.
Donald said a big drawcard for investors was the strong location in a rapidly growing area on a busy intersection directly opposite a site on which Progressive Enterprises has obtained resource consent to build a 4200sq m Countdown Supermarket. The supermarket is expected to be operating within 18 months.
Donald said the centre was strategically positioned in a hot spot of private, local and central government growth initiatives.
Providing the platform for this is the Auckland Council co-ordinated Tamaki Edge transformation initiative that is likely to be New Zealand's largest urban renewal project. This provides a 20-year plan to support a population expected to double within that period, and a workforce forecast to grow from 12,000 to 34,000.
Chan said the auction drew buyer interest from right throughout the Auckland region.
"One of the big advantages of the auction system for this type of property, particularly given that Bayleys has the biggest commercial sales team in the Auckland region, is that it ensures the maximum amount of competition is generated and means the vendor gets the best possible price."
The Bayleys Total Property auction also saw widespread interest in a range of other commercial and industrial property offerings.
The highest price of the day of $4.1 million was achieved for a 301sq m standalone building on a 212sq m freehold site at 220-222 Broadway, Newmarket which sold at a 6.35 per cent yield through Stuart Bode and Henry Thompson, Bayleys Auckland.
The vendor acquired the lessor's interest in the property in 2003 for $1.8 million and then undertook an extensive re-strengthening to bring the 1920s building up to modern seismic requirements.
There was also strong interest at the auction in three preschool education facilities which also sold under the hammer. A 200sq m building on a 1786sq m site at 20 Mt Taylor Drive, Glendowie, occupied by a Montessori preschool business for the past decade sold for $1,372,000 at a 6.3 per cent yield through Alan Haydock of Bayleys Auckland and Tony Chaudhary of Bayleys Manukau. The tenant renewed the lease for 10 years and five months last November. The property has long-term development potential.
At 31 Schnapper Rock Rd in Albany a purpose-built childcare centre on a 1851sq m site sold for $1,957,000 at an 8.2 per cent yield through Laurie Burt, Ashton Geissler and Matt Mimmack of Bayleys North Shore Commercial. Operated as a Bear Park Childcare franchise, the current tenant has been in occupation since 2002 and has already exercised the second of three six-year rights of renewal, from September 2013.
A 425sq m building modernised for a Lollipops childcare facility and licensed for 50 children on a 1224sq m site at 6 Wilson Rd, Glen Eden sold for $1,395,000 at an 8 per cent yield through Shane Snijder, Bayleys Counties, John Bolton, Bayleys Manukau and Mark Pittaway, Bayleys Auckland. An eight-year lease is in place from February 2008.