45 CHURCHILL RD, MURRAYS BAY
SIZE:
Land 1123sq m, house 450sq m.
PRICE INDICATION:
Upwards of $4.5 million. Set sale closes 4pm, May 9.
SCHOOL ZONES:
Murrays Bay School, Murrays Bay Intermediate, Rangitoto College.
CONTACT:
Andrew Dorreen, Precision Real Estate, ph 021 747 334.
FEATURES:
Coveted, private cliff-top home built in Cape Cod style, in excellent condition with sweeping sea views, close to beaches, reserves, walkways, Murrays Bay shops, and in top school zones.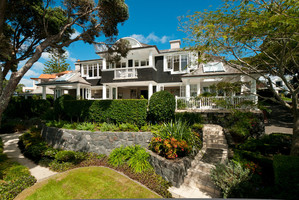 It's a brave couple who try to buy their dream house before they've seen inside it - especially when the property is not even for sale.
When Laurian and Geoff moved from Wellington to Auckland for work six years ago, they scoured the North Shore's beach suburbs for a seaside home that would suit the boating and fishing lifestyle they'd enjoyed at Raumati Beach for 16 years.
Laurian says the first time they drove down Churchill Rd in Murrays Bay, Geoff took one look at number 45, and said: "That's our house."
"I said: 'Great. But it's not for sale'."
When they knocked on the door, the owners, who'd had the stunning Cape Cod, cliff-top house built just a few years earlier, were not initially interested in selling, but called a few days later to say they might accept an offer if they found another piece of beachfront land to build a new house on.
After inspecting the house from the walkway below it which runs from Takapuna to Torbay, then seeing inside, Laurian and Geoff set their hearts on it as the perfect Auckland home for them and their three teenage children.
About a year later, they finally sealed the deal when they sold their Wellington property two nerve-wracking days before Churchill Rd's first open home.
"The first time we were sitting down in the kitchen having breakfast at the bar, we saw dolphins swimming in to shore - it was so meant to be."
Striking 180-degree views from the house - through the leggy boughs of mature pohutukawa that fringe the front of the sloping 1123sq m site - stretch from Whangaparaoa Peninsula to beyond the eastern side of Rangitoto Island.
As if the views and direct route down to Murrays Bay Beach and nearby Churchill Reserve are not seductive enough, the timeless, elegant design of the house and its sound construction are hard to fault.
Laurian was taken by the attention to detail and the clever proportions of the 450sq m house, which was designed by architectural designer Crofton Umbers and built by Glover Developments.
"There was absolutely nothing that we wanted to change when we moved in here. Every single person who has visited has fallen in love with this house."
Despite its relatively grand scale, the two-level house, which has a separate one-room dwelling above a second double garage, feels welcoming, not overwhelming.
Crisp, white-painted joinery and sturdy Roman-style pillars that support the upstairs decks and curved patio roofs with clever skylights, offset black exterior weatherboarding, grey shingle roofing and cladding.
Tongue-and-groove panelling on the kitchen ceiling and other joinery details, double-hung, panelled windows, oak flooring, a solid oak staircase and dormer windows add to the traditional feel.
All the windows' exteriors have robust aluminum frames for easy maintenance, but have sill boards and timber facings to blend in with the traditional feel of the home.
A formal lounge, open-plan kitchen, dining room and family room, and a well-used games/TV room stretch from east to west along the seaward front of the house on its ground level, with tiled patios opening off them.
The downstairs bathroom and laundry are tucked away on the south side of this level, but still conveniently close to the kitchen and other living spaces.
The four upstairs bedrooms include three with sea-facing decks, and the enormous master bedroom also has its own office space and patio.
Laurian says they are still madly in love with this home, but spend several months of the year either travelling overseas or on their boat, so are looking for something smaller in Kerikeri.