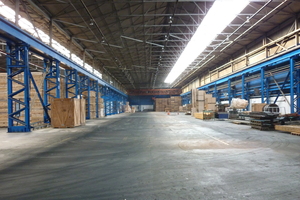 Paul Steele from Jones Lang LaSalle and Claus Brewer from CBRE are marketing industrial warehouse space at 21 Hobill Ave in Wiri, Auckland, ranging in size from 4000sq m up to 9000sq m, for just $49 per square metre - well below current market rates.
"Prospective tenants can enter into a lease negotiation already knowing they can secure up to 9000 square metres of space at a 30 per cent discount to current market rates," Steele says.
He says he sees some stock being over-valued in the current market with older space of a lower specification than 21 Hobill Ave leasing at around $70 per square metre.
"Comparable, and even lower grade industrial warehouse space in the area is leasing at that price in contrast to $49 per square metre at 21 Hobill Ave where the landlord is very flexible - offering a 30 per cent saving to a prospective client."
He expects it to be leased quickly at such a competitive rate. "With long vacancy periods in the market, the landlord sees a better cash flow coming from leasing at below market rentals, on the basis that the space will lease in a far shorter time than the other market offerings."
"By undercutting the market and offering cost saving to companies, we expect interest from active tenants looking in the market as well as tenants who have the ability to relocate, but had not actively been considering the idea."
The 3.11ha site fronts to Hobill Ave, which is just 1.2 kms from the new SH20 motorway connection allowing easy access to the west with SH20 and north/south with SH1.
While currently vacant, the building was originally used for heavy engineering and has been previously occupied by Mainfreight, with Peter Baker Transport continuing to operate from an adjoining part of the site.
Steele says the available space has stood the test of time offering two clear span bays of 4000sq m each plus a further 1000sq m of medium stud warehousing.
"The main two bays have a 10 metre stud height, which is still in line with today's modern Design Build properties."
The building has a heavy rated concrete floor, steel column structure and metal cladding. Due to the previous history of the building, the space also includes full length gantry rails and significant power supply.
Brewer says the space should lease quickly.
"This is an exceptional bargain. Up to 9000 square metres of space at $49 per square metre is unheard of and effectively halves the warehouse rental demanded by new warehouse properties, while still offering a similar stud height, and pallet capacity."
Brewer says the current office space in the building is "basic" but the landlord is prepared to build new offices or renovate if required.
"Located in Business Zone 6, the property will suit clean warehouse users and large engineering firms alike."