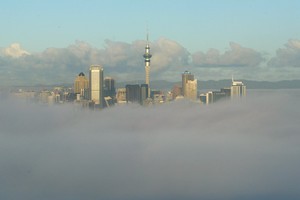 Leading economists have picked further house price rises throughout next year after the Real Estate Institute released monthly data showing a recovery in the sector.
Tony Alexander of the BNZ, Christina Leung of ASB and Philip Borkin of Goldman Sachs issued statements saying further rises would be recorded during 2012, albeit at a more gradual pace.
Alexander scoffed at an Economist report grouping New Zealand with eight other countries overvalued by a quarter.
"The implication one is invited to draw is that New Zealand house prices may fall 25 per cent in the near future. And so we offer again, as we have been offering in various guises since the second half of 2004, our reasons for why New Zealand house prices will not significantly correct downward in the near future," he said, citing building costs, vendors not pressured to discount, low interest rates, positive sentiment about the housing sector and many other factors.
Leung said the REINZ figures pointed to a gradual recovery in activity which would "continue over the coming year, with further house price increases likely to be modest".
Borkin agreed.
"A recovery is under way, but one that looks set to remain gradual," he said.
Mark Smith of the ANZ said the price rises were expected.
"The 6.8 per cent climb in seasonally adjusted November house sales volumes was consistent with other indicators pointing to a pick-up in housing market activity."
Last week, REINZ said Auckland had a strong recovery after the city's median reached a new record of $490,000 last month, exceeding previous records of $479,500 in April.
"The REINZ Housing Price Index for Auckland is now at the same level that it reached at the peak of the market in July 2007, although most other markets tracked by the REINZ Housing Price Index remain below the peak," said the institute.
"Of note in Auckland has been the rapid increase in the number of properties being sold at auction."
QV said last week that values in the confines of the former Auckland City Council were up 4.7 per cent in the year to November and across the entire Auckland region, values rose 3.4 per cent "and are now at their highest ever level, 0.6 per cent above the previous peak of late 2007".
NATIONAL PICTURE
Median house prices
Northland
October: $292,500
November: $305,000
Auckland
October: $465,000
November: $490,000
Waikato/BOP
October: $315,475
November: $310,000
Taranaki
October: $290,500
November: $272,500
Wellington
October: $392,500
November: $383,250
Canterbury/Westland
October: $329,000
November: $335,000
New Zealand
October: $359,000
November: $367,500
AUCKLAND SNAPSHOT
Rodney
October: $471,250
November: $465,000
North Shore
October: $561,400
November: $570,000
Waitakere
October: $411,000
November: $402,250
Auckland City
October: $516,900
November: $565,000
Manukau
October: $445,000
November: $484,000
Auckland region
October: $465,000
November: $490,000
Source: REINZ