14 KELMARNA AVE HERNE BAY
SIZE:
Land share of 651sq m (approx), house 190sq m (approx).
PRICE INDICATION:
CV $1.06 million (July 2011). Auction December 8 (unless sold prior).
INSPECT:
Sat/Sun/Wed 1-1.30pm.
SCHOOL ZONES:
Bayfield Primary School, Ponsonby Intermediate, Western Springs College.
CONTACT:
Andrea Ritchie or Duncan Ritchie, Bayleys, ph 309 6020, 021 906 793 (Andrea), or 021 400 811 (Duncan).
FEATURES:
Family-friendly renovated villa over two levels with large kitchen/family plus separate living room/library with open fireplace. Upstairs has been turned into a children's precinct. Basement storage could be developed further.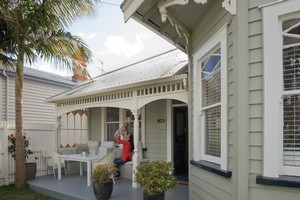 What started as an investment property seven years ago has been transformed into a comfortable family home by Tracy Magan and Damian Alexander.
"Initially we bought it as an investment because we just loved it and, after a while, we thought, 'Why don't we just live here?'," says Damian. So they moved in and began renovating the early 1900s bay villa.
Along the way, they have resisted the modern custom of painting the wooden joinery white and any new joinery added has been in keeping with what was already there.
"There's something that's warm and rich and inviting about the wood, so I didn't want to lose that," says Tracy, who owns recording company Siren Records.
Over the years, Tracy has redesigned the spaces to suit a family with three children and make them easy-care.
"I used to be away a lot, so having a low-maintenance house was good for Tracy," says Damian, the lead singer for popular metal band Blindspott, which has reunited with four of its five original members under the name Blacklist.
The changes began at the front of the house, where the front yard was tidied up and the deck extended so the family could enjoy the afternoon sun.
"We put in purpose-built seating and storage because we spend a lot of time out here - it's a great spot for a barbecue in the afternoon," says Damian.
The master bedroom at the front of the house has a walk-in wardrobe and en suite courtesy of cribbing space from the large bathroom further up the hallway.
Across the hallway is 10-month-old Levi's room, resplendent in pale blue and with a window seat, work that was done when the couple took part in the Trading Houses makeover show.
As part of that, "the winter lounge" further up the hallway was wallpapered in a bold print and had shelving built into one wall that frames a piano. It's here that Damian still writes music in what is his favourite room.
"This room is amazing with a glass of wine and the fire going," he says. "When we had a bigger couch in here, sometimes I would just curl up there with a blanket on and go to sleep."
The fireplace has its original ornate wooden fire surround and tiled hearth. These are some of the delightful character features the home possesses, alongside the wooden arch in the hallway and frosted-glass double doors with ornate handles that take you into the main living area at the rear of the house.
Here, the kitchen and living area has been renovated, with Tracy taking charge of the kitchen design and having the cabinetry made to order, along with a stone-topped island bench/breakfast bar.
"All the workmanship is top-quality - we were really big on that," she says.
The living area is off to one side and Damian has an office nook under the stairs where he can work on his photography and video editing but still keep an eye on the kids.
Upstairs is the domain of daughters Jilly, 13, and Charlie, 6, who have two bedrooms, a bathroom and a play area illuminated by skylights built into the attic space.
"We built this area up here for the kids so they had a nice quiet place to play," says Damian. "When we have friends around, we send them up here with two buckets of popcorn and a DVD and don't hear from them.
"It's sort of like their own little house up here. In the morning, the kids will have a shower, get dressed and come downstairs all ready."
Plans to add a deck on to the back of the house, with French doors opening out to it, have been shelved now that the couple is looking for another do-up.