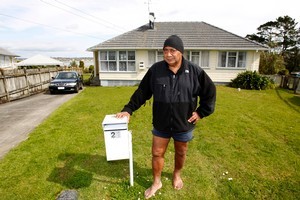 Joe Robson says he and his family are 'gutted' they've been told they must move out. Photo / Steven McNicholl
White paint peels on the window frames of the modest Glen Innes home.
But it's not the paint job that grabs a visitor's attention. It's the site.
About 1000sq m of level lawn carries on past a low fence to the bushy banks of the Tamaki Estuary.
The front door opens and you look straight through a window along the sandy arm of the Tahuna Torea Nature Reserve.
To the family of eight renting the four-bedroom house, it is a peaceful haven.
"The kids run round the reserve, swim and feed the ducks," said Leigh Andrews.
To their landlord, Housing New Zealand, the house is a potential million-dollar piece of real estate that it hopes to convert into cash next year.
The Wai o Taiki Bay house and other desirable state properties with Tamaki River views have land values of around $700,000 each.
Their sale will help to pay for an intensive redevelopment of a 13ha area where 425 people live north of the Glen Innes town centre.
There, the sites of 156 homes - more valuable than their 50-year-old buildings - will be merged to create at least 260 new dwellings.
Across the street from Mr Andrews, two adults and two teens live in a state house that also backs on to the lush riverside esplanade.
Joseph Robson said his home for the past decade could be worth over a million dollars.
"It's an absolute shock to us all.
"We would love to stay in this area because all the neighbours get on and the kids all play together."
Higher up, in Inglewood St, where home owners enjoy wide views from the Coromandel Hills to Half Moon Bay Marina and One Tree Hill, they wonder what will replace the little state rental on a prime hilltop site of 2000sq m. The council rateable land value is $860,000.
Housing New Zealand's general manager assets redevelopment, Sean Bignell, said the mismatch between land and housing values was part of the problem that the redevelopment aimed to fix.
Zoning in this area nudging St Heliers Bay Rd and West Tamaki Rd, allowed for a mix of lower and higher density housing. The plan was to sell the properties closer to the river, where subdivision is restricted.
"The sale of the higher value properties will be reinvested into state housing," said Mr Bignell
"It will contribute towards the northern Glen Innes redevelopment aimed at providing better quality state housing, as well as affordable rental properties and more homes for private ownership."
Mr Bignell said the agency was seeking development partners for the 156 sites which should result in 78 state rentals, 39 other units owned by other social or community housing providers, and 143 for private sale.
A further 40 state rentals, which did not have subdivision potential, would be renovated.
The streets sloping towards the river already mirror the agency's target to lower the concentration of state rentals in its former estates.
Many homes, usually with choice views and big backyards, have been sold over the past 40 years to tenants, property investors and developers.
In Fernwood Place, Leigh Andrews' nearest neighbours for the last 13 years are in former state houses which he believes must be worth $780,000 or more.
"I did not expect to be told we had to be out by the middle of next year," said Mr Andrews.
"We are pretty gutted it's going to happen.
"We can see along the beach and the river but it's not so much the view ... My kids have grown up here and we have grown into this community."
State treasures

* $774,554 land value, Fernwood Place, 1091sq m
* $619,500 Inglewood St, 2000sq m
*Housing NZ-valued at June 30, 2011