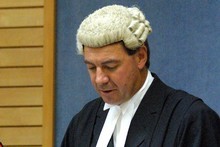 An Auckland business broker has lost his chance to argue for an insurance payout from AMI after a fire at his Epsom house which had weathertightness issues.
Paul Devcich cannot go to the Supreme Court after yesterday's decision.
The Supreme Court said his argument for an appeal concerned whether a fire which destroyed his family home in 2009 was arson committed by Devcich - "who did have a motive, although no prosecution eventuated - or arson committed by someone else, the only other suspect being one of the tenants of an adjacent house or both of those tenants acting together".
Paul Dale, who represented Devcich, said the Supreme Court ruling did not even allow Devcich the opportunity to challenge the Court of Appeal.
Devcich and trustees sought to take on AMI after litigation where the insurer was initially ordered to pay for damage to the leaky building which investigations showed had been deliberately set alight. Justice Graham Lang in the High Court heard that a neighbour alerted the Fire Service to the blaze in Coronation Rd on April 24, 2009. AMI would initially not pay out on the claim, claiming that Devcich set fire to the house to get rid of the leaky property.
But Justice Graham Lang in the High Court said AMI should pay, so the insurer went to the Court of Appeal which overturned the High Court ruling. The Appeal Court ruled Devcich would have to repay AMI more than $160,000 in court costs but Devcich and the trustees wanted to challenge that.
Yesterday, the Supreme Court said his allegations about the involvement of the neighbours was unconvincing.
"... the Court of Appeal was entitled to take the view that there was a very high level of suspicion arising from his purchase of petrol prior to the fire, supposedly for use in a hedge trimmer but in fact unnecessary for that purpose, and his implausible explanation of that purchase. "His actions on the way to work and after arrival at work on the morning of the fire were also considered suspicious."
By Anne Gibson @Anne Gibson

Email

Anne