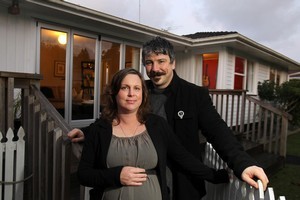 Usually this news comes too late. We look at the squiggly lines and slap our foreheads for not taking advantage of favourable market conditions back when they were staring us in the face.
But real estate experts agree - now is a great time for prospective buyers to be splashing out on their first homes.
Reserve Bank interest rates are hovering at around 6 per cent, the lowest they have been since 1965. After the global financial crisis led to a clenching of the purse strings, banks are now relaxing their lending criteria. And sellers are "meeting the market", accepting more realistic prices than the over-valued days when the market peaked four years ago.
But experts say the window of opportunity will not last long, predicting that a shortage of properties in future years will put pressure on existing stock. Building consents declined to 14,611 in the year to March, compared with 25,406 in 2006. That's predicted to cause a long-term housing shortage.
With just 60,000 homes sold throughout the country in the past year, there were half as many transactions as in 2007. And that means fewer homes to choose from. The market has been good for first-home buyers for the past two and a half years, says BNZ chief economist Tony Alexander. In fact, the best time was in 2009, in terms of low house prices.
"That's when the vendors were most panicked," says Alexander. But it's not too late to take advantage of the circumstances now - before they change. Alexander predicts we are at the start of the cyclical upturn in the housing market that is being driven by an improving labour market, increasing rents and a growing awareness of the shortage of houses.
As people get more confident with their employment situation they will get "itchy feet" and move out of home or the shared flats where they have been nervously waiting out the recession for the past three years. These buyers would be wise to negotiate on financing because the loan market is swinging back in their favour, says Alexander.
"Lending growth is relatively weak. There are not all that many businesses and people wanting to borrow out there. It's a competitive environment." House prices are lacklustre throughout the country.
According to figures from QV.co.nz, the average house sale in Tauranga this year is $392,502, $45,000 less than in 2007. Hamilton houses are on average $21,000 cheaper than they were four years ago, going for $368,361 today compared with $389,307.
Meanwhile, house prices in Central Auckland, North Shore and Manukau are showing signs of recovery, steadily approaching similar levels to 2007.
It is Stephen Hart's business to hunt out good buys. The publisher of Where to Live in Auckland also runs Auckland HomeFinders, buying properties for clients. Hart has noticed a big shift over the past four months in the loosening of banks' lending criteria.
"That, more than anything, has led to more first-time buyers in the market," he says. That doesn't make it a cakewalk for potential buyers. Hart says there is huge competition for good properties that tick all the right boxes - weatherboard or brick-and-tile homes in good school zones with flat freehold sections. It is common for Hart to see such properties go for 25 to 30 per cent over CV.
"We are competing pretty full-on to get great properties." Auckland is still relatively unaffordable for first-home buyers, he says. They are forced to move away from the central city to suburbs such as Mt Wellington, Te Atatu and Penrose to find homes in their price range.
Josh Young, a real estate agent for Ray White in Mt Wellington is noticing a scarcity of properties for sale in his area. New online listings are dribbling through at around three or four a week, compared with about 10 weekly a year ago.
Despite this, Young says a number of first-time buyers are looking to break into the market. Three-bedroom homes with outdoor living and do-ups are particularly sought after. Prices across town in the western suburb of Te Atatu are being "kept honest", says real estate agent Leonie Higgins of Barfoot and Thompson.
A creep out from the pricier inner-city suburbs of Pt Chevalier and Mt Albert is seeing young couples and families buying their first homes in the area. Higgins says buyers and sellers are more likely to be making lifestyle decisions at the moment, not speculating on the market. Older people who have raised families are downsizing and moving on, leaving room for younger professional families.
"It's cyclical. It's regenerating," says Higgins. "It's more of the same moving in, but probably slightly more affluent than [the generation who came] in the 1950s and 60s."
Montie Baskett had been toying with the idea of buying a house for six years. This year, the 32-year-old solicitor decided the time was finally right. He had saved a bigger deposit, got a pay rise and the economic environment had swung in his favour.
"The two main things that drove me to look more seriously were the fact that rents were increasing and the overall cost of buying went down, interest rates were lower and you could buy at a better price," says Baskett. It took Baskett and his partner Rosanna Guardamagna, 30, a retail assistant, only a month to find their three-bedroom 1980s townhouse in Kohimarama.
They made a pre-auction offer at Easter and settled in May for $75,000 less than the CV. They now pay about the same in mortgage repayments as they were in rent for a similar three-bedroom home in Epsom. The bank obviously supported his choice.
Baskett was able to get a favourable deal on his mortgage rate, with a 0.4 per cent discount on the floating rate for the next two years. This is a symptom of increasing competition in the home-loan market.
Chairman of the New Zealand Mortgage Brokers Association, Darren Pratley, says money is easier to come by these days. Lenders are moving back towards dishing out loans at 90 and 95 per cent levels - provided borrowers have the right credentials. There is more caution in the loan industry and assessments are on a case-by-case basis.
Baskett says prices were more realistic this year than the last time he was seriously looking in 2007 and 2008. "I felt we weren't competing with a whole lot of speculators, which was what I thought the last time I was looking," he says. Jonno Ingerson, research director at QV.co.nz, agrees it is a good time for first time buyers, as long as they can find what they want in a market that offers only half the number of properties that were available at the peak of the market in 2007.
Alistair Helm, CEO of realestate.co.nz, the official website of the real estate industry, says realistic is the perfect adjective for today's market.
"We've all grown up and learned that you can't bank on property to return to the levels that were almost seen as guaranteed back in 2004 and 2005." Helm says there are still good opportunities available for first-time buyers, provided they do their homework. "They're not being priced out of the market as yet. It's more that they're getting out-manoeuvred by their own competing buyers who are faster on their feet."
Home sweet home
Two years ago, buyers could find their first home in Sandringham for $450,000. Today, prices for a basic, rundown house in the inner west suburb have skyrocketed to more than $500,000, shunting Sandringham on to the list of suburbs alongside Grey Lynn, Westmere and Kingsland that have risen out of an entry-level purchaser's grasp.
So where should they be looking? John Bolton, of mortgage brokering company Squirrel, says Te Atatu Peninsula is "gold" at present but tricky because of the scarcity of properties on the market. Mangere Bridge is a good find and the Penrose end of Onehunga is still good value for money, he says.
Bolton predicts Hillsborough and surrounding areas Lynfield and New Windsor will go up in value once the new Mt Albert motorway is built. On the North Shore, Bolton singles out Birkdale.
The value of properties in the area varies. Nearby coastal Beach Haven is too pricey for most first-time home buyers. Inland Beach Haven is more affordable but considered undesirable because it is too rough.
Similarly Pt England, bordering affluent Glendowie, is often disregarded by first-time home buyers because of perceived problems with security. "You can buy a full-site, little ex-state bungalow for $380,000. The prices are totally deflated there because of who your neighbours are," says Bolton.
Mt Wellington has also had a reputation for being rough but its image is changing, and entry-level properties are still available. For an indication of where a suburb is heading, look to the retailers.
Mt Wellington has a Farro Fresh deli and new supermarket. Yes, the yuppies are moving in. Frances Morton and Jane Phare When Kate and John Sutherland started looking for their first home in January they fancied the idea of a do-up. But as the search dragged on, and with a baby on the way, things got urgent so they narrowed their vision.
In April they snapped up at auction a tidy, 1960s three-bedroom weatherboard home in Green Bay. It's an area becoming increasingly popular for couples such as the Sutherlands or as John, 40, puts it:"Wasps (white Anglo-Saxon Protestants) with kids on the way."
Kate, 37, a graphic designer, had done her research and decided the time was right to get into the market.
"I'd been thinking about it for a long time and I had earmarked this year as the time to buy." It took the couple a few months to find a suitable property and Kate visited up to seven open homes every weekend.
They concentrated on the western suburbs of Titirangi, New Lynn and Glen Eden, which offered more bang for their bucks than areas closer to the city. By the time the Sutherlands turned up for the Green Bay house auction, they were confident they knew how to play the game, having already missed out on other properties.
"It was wonderful," says Scotsman John, an art director. "I started the day off with a dream and a dram." With some aggressive bidding, they sealed the deal at $436,000, $1000 above CV but well below the sellers' asking price of $460,000.
Before becoming homeowners, the couple were renting in Sandringham. Their landlord hiked the rent earlier in the year, which was added motivation to buy.
Now the Sutherlands pay $53 less a week for their mortgage than they did in rent. They live further from work but don't mind the extra commute. Kate says getting away from the city at the end of the day is a good thing. "We have lovely views of the Waitakeres and it's quiet."