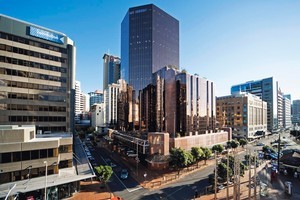 Sydney-based Eureka Funds Management is selling its five-star InterContinental Hotel Wellington.
The 232-room hotel is being marketed in an international campaign which closes at the end of next month and the building might fetch about $60 million,
Jones Lang LaSalle Hotel's national director, Dean Humphries, who has launched the campaign, said he could not disclose prices but described the building as "a trophy asset".
"It's the only five-star accommodation facility in the city and has an impeccable and enviable trading record," Humphries said.
Christchurch-based hotel expert Graham Wilkinson, who is the body corporate chairman of troubled five-star The Westin Auckland Lighter Quay, said the Wellington hotel was due for a major refurbishment and needed work to bring it up to a true five-star rating.
"We're talking some serious money and I think even InterContinental would concede the hotel needs work to give it true value," Wilkinson said.
But Humphries said many of the guest rooms had been partially refurbished in the past three years.
Wellington could host several pool games and two quarter-finals for the Rugby World Cup, so the new owners could get considerable benefits, he said.
In March, InterContinental said it was pulling out of another property, Wellington's Holiday Inn, after a long-running dispute between management and investors who bought rooms there.
The group ceased management and pulled its name from the property.
Rival operator Rydges said it would run that huge 280-room Featherston St hotel from March 10.
Eureka's Core Property Fund 1 owns the InterContinental Wellington.
The Herald reported the Australians buying the InterContinental in September 2005 for about $61 million.
This was about the time other Australian, French and Asian property investors spent $278 million on eight New Zealand hotels within a year.
Another Eureka fund owns Christchurch's quake-hit 298-room Crowne Plaza, the distinctive triangular-shaped block at 70 Kilmore St near Christchurch Casino. The hotel opened in 1988 and had a 4.5 star rating before the damage but has been shut for months. Eureka bought Crowne Plaza in July, 2008.
The same fund owns another big Wellington block. Eureka Core Property Fund 3 has the Grand Plimmer Complex at 2-6 Gilmer Terrace. This is an office, hotel and car park block.
The centre has a 13-level, 132 room free-standing Travelodge Hotel and a separate multi-level car park of 11 part levels with 623 bays.
"The complex sits on the fringe of the core precinct of the Wellington CBD with frontages to Gilmer Terrace and to Boulcott Street, with a principal frontage to the Plimmer Steps," Eureka says of this investment.
"The investment strategy of the fund is to invest in a broad range of real estate assets across Australia and New Zealand that predominantly produce returns in the form of income. This includes exposure to major real estate sectors such as office and retail together with emerging real estate sectors such as hotels and car parking," Eureka says.
Other hotel properties owned by Eureka include the Holiday Inn Potts Point in Sydney, Crowne Plaza Canberra, and the InterContinental in Melbourne.