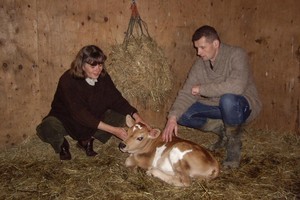 After a decade of living sustainably, Carolann Murray was well-placed to write a book with advice and techniques for those who want to try it themselves.
Her book, Mastering the Art of Self-Sufficiency in New Zealand, is a result of her decision to follow the self-sustainable pathway because she didn't like what food safety regulations allowed. "For example, irradiation, oranges injected with dye and sugar, levels of synthetic chemicals that other countries had banned years ago ..."
Also, Carolann - who lives in Whitemans Valley, 35km from Wellington - felt that with the nearby capital being the world's second-windiest city, "it just seemed plain old stupid not to put up a wind turbine and generate some of our power".
Carolann and husband Andrew live on 4.2ha with cows, calves, sheep and poultry. They also have beehives.
Their land hosts a mix of fruit trees and berry bushes, as well as a vegetable garden run on a crop-rotation system.
A section of one of the paddocks is planted annually in spuds, carrots, onions, corn, pumpkins, peas and beans.
Being sustainable does require planning, Carolann says. The most important task is to "sort your soil out, as most of your problems disappear then in both pests and diseases and animal health.
"Don't bother trying to dig clay, just do a raised garden bed. Spend big money on things that need it, like a pressure canner, and use stainless steel for most things in the kitchen as it bounces and does not break, making it cheaper in the long run."
Spring and autumn are her busiest times, with planting, harvesting and preserving.
"Mid-winter and summer are pretty cruisy, with only milking the cow and cheese-making, butter and yoghurt to do.
"There are two things that I fret about before winter and they are getting the hay in for the animals and getting all the firewood chopped and under cover for us. When those things are done, I can cope with anything. And the weather plays a major role in this lifestyle. If the weather plays up, then crops don't grow, fruit doesn't ripen, grass doesn't grow."
If you are thinking of buying a block of land, Carolann says to first consider what you can grow there, whether the land floods, and if hills block the sun and wind - "is there a water source to power a micro hydro system and provide your water needs?" And factor in how much labour you are capable of.
She says you don't have to live on the land to live off the land. "If you live in an apartment, you can do most of this with no land.
"You can make cosmetics and herbal medicines from a few herbs in flower pots, make soap, muesli, knit, make bread and candles, have a beehive on the roof, bottle fruit and make jam.
"You are legally allowed to buy five litres of unpasteurised milk a day from anyone who milks a house cow. So apart from chooks, all this can be done in an apartment."