341 MONUMENT RD CLEVEDON
SIZE:
Land 3.68ha, house 816sq m.
PRICE INDICATION:
Interest expected above the CV of $2.3 million. Auction December 1.
INSPECT:
Sunday 1pm-2pm or by appointment.
SCHOOL ZONES:
Clevedon School, Papakura or Howick colleges.
CONTACT:
Denise Jenner, Barfoot & Thompson, ph 0272 555 011.
FEATURES:
Huge house on country estate with bonus of large American-style barn to house a classic car collection, boat, etc. Minutes from Clevedon village.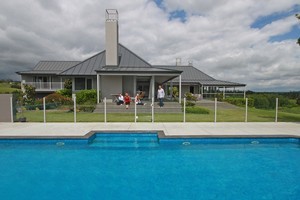 When Chris Porter wanted an architect to design a new home on the land in Clevedon where he, wife Carolyn and their family had lived for the past 15 years, he needed to look no further than to his old school friend, architect Simon Carnachan.
"We'd grown up side-by-side and in and out of each others homes," Chris says. "I knew we could trust his ideas entirely."
Simon also had the benefit of knowing Chris' history as a member of the Masport engineering families, and so understood his desire that the home be "engineered".
Chris uses this term in two ways. One of these refers to the fact that this huge, comfortable home was designed with the family's specific lifestyle requirements in mind; the other is technical, in that every construction detail was thought out with great care and with no expense spared.
On the lifestyle level, Carolyn and the family's two daughters are seriously interested in dance, so a fully equipped dance studio was fitted on the ground floor.
On a technical level, the roofs are a continuous Eurotray system that allows for no leaks, the floors are heated - even in the outdoor entertaining areas - and the construction is a "good old-fashioned plaster system with cavity and ventilation spaces".
So well-insulated is the home that, despite its 816sq m of interior floor space, it is easy to heat and, just as important, cool. Cross-ventilation for summer, overhanging eaves for winter and passive-heating elements all have their part to play in keeping running costs moderate.
"I have to admit we love our space," says Chris. "Here we can spread out, yet the kitchen and family living space is such a magnet that we spend a lot of time together. I love to cook and here I can do it while I look out over the valley."
Off to one side of this centrally located double-height living area is a large, fully wired room, which could function as a media room or formal living area. Beyond this what the family call the "Barbecue Room". This has another fully equipped kitchen, but one that opens on all sides to become part of the outdoors. "This was designed so no matter what direction the wind is coming from we can still entertain," Chris says.
Still on the ground floor is a guest suite with bathroom and upstairs three more bedrooms and two bathrooms. Light and views of the rolling Clevedon countryside fill the windows. Out in the grounds is a pool that the girls and their friends have made good use of over the years and, around the back, an American-style barn or, to the family, Chris' man cave. This houses classic cars, boats or just the general paraphernalia country living seems to accumulate.
At the moment the 1970 Ford Capri that Chris used to race for the Masport team is up on blocks undergoing restoration.
Despite this being a home that the Porters thought they'd be in forever, they've decided after 21 years on the same patch of land that they are ready for a change. "We are all so looking forward to it," enthuses Carolyn. "When I came out here I didn't even own a pair of gumboots and told Chris one year was probably long enough. But now, 20 years later, the time finally is right."