22 COLGAN LN WAITOKI
SIZE:
Land 35ha, house and flat 499sq m (approx), cottage 100sq m (approx).
PRICE INDICATION:
Interest expected above $4 million. Expressions of interest close November 18.
SCHOOL ZONES:
Waitoki Primary School, Orewa College.
CONTACT:
Graeme Mann or Lynnette Thomas, Bayleys, ph 09 426 5911, Graeme 0274 500 589, Lynnette 021758680.
FEATURES:
Solid masonry five-bedroom lodge-style country home on 35ha of possibly subdividable land. Manager's cottage, bar and entertainment area in converted woolshed, pool, spa, sauna and gym complex, lit tennis court and two-bed guest accommodation.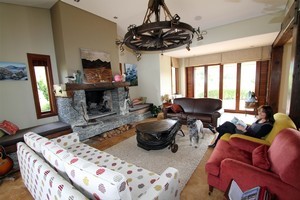 Back in 2004, when Rose and Paul Boocock embarked on building what they intended to be their long-term family home, they envisioned a lodge-style dwelling inspired by their holidays in the Queenstown area. But as Rose comments with a laugh: "Paul couldn't help himself adding things as we built, and it kept getting bigger and bigger. We ended up with this."
"This" is the central living area of the house, a room of what can only be described as monumental proportions and dramatic features - 300mm antique bridge timbers span the lofty cathedral-ceilinged spaces and a huge schist fireplace anchors the far end of the room.
And although this central hub gets lots of use, the house is so capacious that the family is spoilt for choice as to where they spend their time. Up one of the two staircases that lead off the lobby, Rose has her own studio where she paints whenever she finds the time.
Up the other staircase is what could probably be described as the guest wing, with bedroom, bathroom and huge living space. Although the children have their own living room alongside their bedrooms below, a slot-car track and table-tennis table show how they have spread throughout the house.
"We always had plans of getting a billiard table as well," says Rose, "but it was one of those things we just never got round to. The children always seemed pretty happy with what's here, plus Nintendo and Wii down in their own living room."
This third living room lies at the centre of the children's bedrooms at the far end of the passage on the ground floor, with a now-ignored playground-quality climbing frame in the gardens in front of it.
Back down the long passage dividing the central living core from the bedrooms is what Rose and Paul use as their suite. As expected in a house of this size and quality, it has beautiful views out to the lawns and pastures beyond, plenty of storage and an elegant en suite.
Nearby lies a pool, spa, sauna and gym complex and, a few steps away, a hard-surface tennis court. Rose admits that, like many of the amenities that come with this extraordinary home, it and the pool is under-utilised.
"The courts seemed like a good idea at the time because we all know how to play, but like the pool it hardly gets used these days. No one even got into the pool last summer."
As if these amenities weren't enough, there is also a bar and party zone in what was once the woolshed, a modernised manager's two-bedroom cottage and, above the four-car garaging, a self-contained two-bedroom flat.
As well-appointed as the house, this apartment could function equally well for guests or staff. "Like so much of what you see, it's hardly used now, but we all lived here when the house was being built," remembers Rose." It was fun watching it grow in front of us."
But a lack of time to pursue the art she loves so much, along with the ever-growing commitment to the sporting activities of the children, have persuaded Rose and Paul that they want to move closer to where the children train. As Rose says: "It just seems sensible to make life easier, so that when I have to get up at 4.30am to take someone to swim training, it's just down the road. We're only 10 minutes from the motorway here, but at that time in the morning every minute counts."