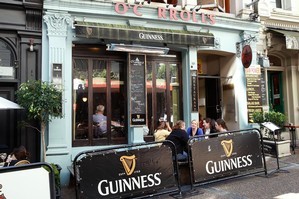 Never mind the cow cockies - South Canterbury and Allan Hubbard were sunk by glitzy property investments including some in upmarket Auckland bars and nightclubs.
New information shows Auckland's nightlife cost the failed finance company about $1.5 million.
While the financier traded strongly on its South Island links and stressed the parsimonious lifestyle of owner Hubbard, it was a big Auckland lender and helped create venues for the city's after-dark revellers.
It financed chunks of the city's hospitality industry, pouring money into real estate created for Princes Wharf and Vulcan Lane bar devotees.
Three Princes Wharf bars at the bottom of Quay St and a themed Vulcan Bar received cash from the financier, much to the detriment of South Canterbury Finance.
The Russian-themed Lenin Bar, Minus 5 and Dakota Bar on the wharf and O'Carrolls Irish Bar in Vulcan Lane got $1.9 million.
But when the bar-owning companies hit hard times and entered receivership, accountants BDO stepped in and kept the the punters coming, eventually selling all four bars as "going concerns".
South Canterbury got back only $433,000 of the money lent to them.
Auckland's Hyatt hotel has also been confirmed as a SCF recipient.
chief executive Sandy Maier said on Tuesday that SCF had increased risky real estate loans after it entered the Government's scheme that protected investors' money.
Asked on TV3 if it had cynically exploited the Government guarantee, he replied: "It might have been cynical, it might have been merely incompetent ... it probably violated a lot of prudent lending criteria."
He didn't know exactly why it had happened.
"I guess the best you could say was it was somebody's idea of aggressive growth. This happens in the lending industry, cyclical excesses and rushes of blood to the head. South Canterbury Finance was poorly controlled and managed for some time."
- ADDITIONAL REPORTING: NZPA