Airport Oaks site offered for sale or lease as firm reorganises, writes Colin Taylor.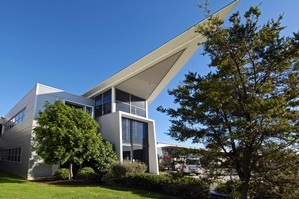 The architecturally designed head office and warehouse of food manufacturer Real Foods, in the sought-after Airport Oaks industrial area near Auckland airport, is for sale or lease as the company reorganises its distribution operation.
The high profile, free-standing 4985sq m industrial office and warehouse complex at 39 Aintree Ave was purpose-built for Real Foods in 1996. The supermarket supplier of a number of well known brands subsequently sold the premises on a lease back arrangement several years ago and its lease is currently producing net annual rental income of $611,000.
The property is up for sale or lease, with offers for options closing on September 23, through Peta Laery, of Bayleys Manukau, and Stuart Bode of Bayleys Auckland.
Laery said Real Food's lease was due to expire on July 31 next year, but the company would look at staying on as an office tenant if a new owner or tenant wanted to occupy or lease just the warehouse space.
"However, if a new owner wanted to move in immediately, or there was a tenant for all the space, Real Foods would move out and make the whole property available," Laery said.
The complex was designed by Ashton Mitchell Architects to stand out from its neighbours with a sail-like roofline over the offices which provide 1105sq m of attractive, fully air-conditioned, carpeted and partitioned space.
The 3880sq m warehouse has a stud height of 6.5m to the underside of the knee rising to 8m at the apex.
It has a full sprinkler system and is accessed through wide roller doors facing the road. It includes a 514sq m food production area with walls lined to MAF requirements.
Bode said the property had a huge frontage of approximately 90m to Aintree Ave and a substantial sealed yard area with on-site parking for 39 cars. It has two driveways for a drive-in, drive-out operation and sits on a 8106sq m site. The site is divided into two titles of about 4000sq m each.
Laery said that despite increasing vacancy levels in some other South Auckland areas, Airport Oaks had held its own with sales and leasing inquiry staying reasonably buoyant in the past couple of years.
"We have done quite a bit of selling and leasing of buildings in this area recently because it is a sought-after location. Airport Oaks is continuing to expand because organisations have seen the value of a well located and stylish destination literally minutes from the airport. Generally, business within this locality is dominated by customs clearance, logistics and warehouse distribution activities.
"It has been one of Auckland's fastest growing industrial areas with extensive development activity in the last five to eight years and is now well established with a wide range of amenities and a good local labour pool. Real Food's Aintree Ave property is in the very heart of this precinct."
Laery said the airport had become a mini-city with a shopping centre, medical facilities, childcare, gymnasium, 18-hole golf course, driving range, supermarket, cafes and takeaway outlets.