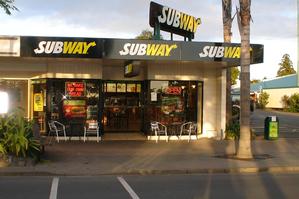 The owners' move to Australia to be near family has resulted in a Subway franchise outlet in the Northland town of Kerikeri becoming available as a business going concern
"Once they arrive in Australia the vendors plan to purchase another Subway restaurant over there," says Nick Stevens of Link Business Broking Limited in Ellerslie who is marketing the Kerikeri Subway franchise.
Stevens says the store is currently operated under semi-management and would benefit from the involvement of an owner operator with a vested financial interest in the success of the business. It is located in Cobham Rd close to Kerikeri's Domain, the local shops and other businesses.
"The present owners are only working around 10-15 hours per week in the restaurant so this business would benefit from a hands-on operator and could give a couple a great lifestyle and chance to escape the rat race in sunny Northland," Stevens says.
The restaurant operates daily from 7am to 9pm with extended hours over summer when it is open until 10pm each day. Business peaks over school holidays and long weekends like the Waitangi celebrations.
A present the restaurant is operated with a full-time staff of two persons and six part-timers - rising to eight part-timers in the busy tourist season.
Stevens says the asking price for the Kerikeri Subway is $424,000 made up of tangible assets of $115,000, intangible assets of $300,000 and stock at valuation of $9000.
"A transfer fee is also payable by a new franchisee on the transfer of the existing franchise, which covers the costs of the transfer documentation process and also the course fees for the compulsory two-week franchisee training course in Brisbane, Australia. However this does not include the travel, accommodation and general costs, which are the new franchisee has to pay for.
"There is, reportedly, a large waiting list of approved applicants for new stores in New Zealand which is testimony to the fact that the national franchisor is committed to ensuring that existing franchisees are not adversely affected by possible new sites," Stevens says. "Instead, the focus is on supporting its valued network of existing stores rather than the wholesale opening of new stores - thus protecting and enhancing the value of the existing stores."
Stevens says a reason why Subways are considered one of best franchises is the considerable support that is offered to franchisees by various organisations within the Subway family of companies, which include monthly site visits by the development agent's experience field consultants for the purpose of store audits and coaching on ways to improve operational performance and profitability.
The development office helps with lease negotiations, store fit outs, store transfers, sourcing of new store opportunities and assisting franchisees with improving performance. They also drive local initiatives to encourage sales growth at a store level and at all times maintain brand consistency on a national basis.
The Subway Franchisee Advertising Fund Trust (SFAFT) has staff experienced in marketing and advertising constantly reviewing the professional merchandising, marketing, product development and advertising at a collective national level, including the adaptation of global marketing initiatives to local conditions.
The Independent Purchasing Company Australasia (IPCA) manages supplier relationships at a national and global scale, to ensure top quality product is delivered efficiently to stores at optimal consistent pricing.
"Thanks to IPCA, a number of New Zealand food manufacturers and producers export their high quality produce to other international Subway markets," Stevens says.
He says the suitable Subway franchisee must possess a general understanding of the operation of a business which has been derived from either having previously owned or managed a business of some sort or having acquired similar skills from involvement in the corporate sector.