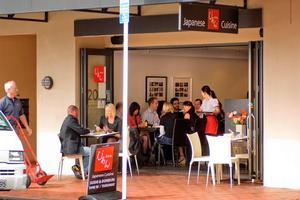 Strategically located within a heritage building on the street level of Albert St, a former inner-city property with four commercial kitchens and various dining areas is up for sale with vacant possession.
It is one of a wide variety of properties that will be auctioned in Bayleys' central Auckland auction rooms on June 23 as part of Bayleys' latest Total Property portfolio. The 650sq m ground floor unit of the six-storey heritage Prince Albert at 41 Albert St building, has housed a variety of businesses over the years, from a Chinese yum cha eatery to the Mad Dogs and Englishman pub a few years ago.
Nicolas Ching, of Bayleys who is marketing the unit in conjunction with James Chan, says the owners planned to start their own business in the premises but their circumstances have changed and now it is up for sale.
"It would be ideal for another restaurant because everything is already there, but it could just as easily be used for retail or even office space," he says.
The property is zoned Strategic Management Area 1 under the Auckland City Operative District Plan (Central Area) 2004 and according to this zone, it can be used for a variety of purposes from accommodation to education, office space, retail or service provision.
"It is in a high-profile, central location where the surrounding area has seen substantial redevelopment in the past few years," Ching says. "It's about 400m south of the waterfront and close to Sky City casino and hotel, as well as Queen St, plus all the hotels and apartments in between."
Constructed in the early 1900s and extensively refurbished in 1994, the building comprises ground floor retail space and five levels of apartments and penthouses above, with the ground floor having a high stud of around 4.8m.
This floor, directly off Albert St, has a large bar at the centre of the former dining hall, an aquarium and access to a 106sq m mezzanine dining area which also has a bar. The four inter-connected kitchens are all fitted with commercial-grade stainless steel benches and are at the rear of the building. It has a storage room and chiller room with two large industrial chillers.
There is a separate entry for residents, through the Albert St frontage and at the rear of the site is the recently upgraded St Patrick's Square Reserve, meaning the building will not be built out in future.
Ching says the owners have recently upgraded the fire alarm system with the latest equipment so any restaurateur who wanted to set up business would have little to do.
Ching and Chan, in conjunction with Quinn Ngo of Bayleys Auckland, are also auctioning another CBD restaurant premises, this one with a lease in place. Located at 120 Customs St West in the Viaduct Basin, it is part of the Parc mixed-use residential and commercial development. The 120sq m ground floor unit has had a three-year lease from March, with four three-year rights of renewal, to Wild Wasabi, which operates a Japanese restaurant from the premises.
The property is currently producing net annual rental income of close to $46,927, which Ngo says puts it within reach of smaller investors, particularly those looking to diversify out of the residential real estate.
"It provides an opportunity to purchase a piece of the CBD waterfront precinct at a very affordable price in the popular under $1 million segment of the retail property market, in which direct property investment opportunities do not come up for sale that often," says Ngo.