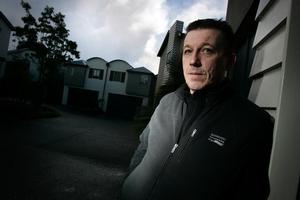 Immigrants are being saddled with leaky homes, unwittingly buying into our national disaster, says a Remuera real estate agent.
Steve Koerber of Barfoot & Thompson has pointed the finger at vendors and other real estate agents, saying there is a lack of information about houses.
John Gray of the Homeowners and Buyers Association agreed that some agents were reluctant to let potential buyers know of weather-tightness issues, but an agency boss has rejected criticism.
Bryan Thomson, Harcourts chief executive, said agents were upfront if they were made aware of leaks. But not all vendors told agents about leak issues, he said.
Mr Koerber said migrants were particularly at risk because so many were unaware of the dangers of buying a New Zealand house. "I have a big problem with the fact that hundreds of new immigrants and some locals are literally stitched up into potentially leaky or actually leaky homes. Their eyes are wide shut and some owners and agents are genuinely relieved to find them," Mr Koerber said.
He wants to meet Building and Construction Minister Maurice Williamson and persuade him of the need for Government-controlled inspections, particularly of houses built between the risky period 1991 to 2003.
He believes this is a viable solution to the country's leaky-home crisis, thought to affect about 80,000 places.
A new law to protect buyers and sellers of plaster homes that demanded state inspection reports of at-risk houses attached to listing and sale and purchase agreements would help, he said. Homeowners would pay about $1000 for the reports, but the Government should subsidise this.
Mr Koerber said he knew some assessment reports on houses were inadequate but he suggested reports would need to comply with stringent guidelines highlighting risk factors including cladding, roof construction, location and when the house was built.
"If a house leaks and is bought 'eyes shut' by a new immigrant for $1 million, the actual value of that house could be, say, $800,000 if the problems had been/were found/known. If this immigrant stays a few years then sells under the same circumstances to another naive buyer, then the problem is hidden again," he said.
The Government's Weathertight Homes Resolution Service offers written assessments of homes not more than 10 years old which are suspected of leaking. A full assessor's report costs $500 for a stand-alone property or single unit claim, $1000 for a duplex of two or more units or $1500 for a multi-unit complex.
Mr Gray said many of Mr Koerber's suggestions were noble but ill-founded and impractical. "Unfortunately the Government does not have any appetite to get close to the problem nor to regulate anything. So it is left to us as a self-funded organisation to try to educate people about the risks of buying any home. Some people have jumped through hoops when looking at buying what is perceived to be a high-risk home and shied away to buy a perceived low-risk home only to find that is a disaster.
"Don't drop your guard no matter what type of home you are intending to buy. It is unfortunate also that some owners who have had their homes remediated to a very high standard find themselves being victimised by naive agents and conveyance lawyers who advise their clients to stay away from a remediated leaky home.
"Every home should be subject to a pre-purchase inspection undertaken by a suitably qualified person when someone is committing to the biggest purchase of their lives. However, the real problem is the lack of suitable qualified, experienced and competent pre-purchase surveyors - with professional indemnity insurance - upon whom you could rely," Mr Gray said.
SPOTTING THE WARNING SIGNS
Watch out for:
* Monolithic-clad houses.
* Mediterranean-style houses.
* Houses with outside textured walls.
* Untreated kiln-dried framing timber.
* Rust or other stains on exterior walls.
* Cracks in the cladding letting in rain.
Source: Department of Building and Housing. More information at www.dbh.govt.nz