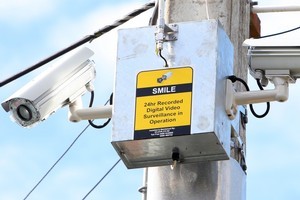 In the post-election euphoria, when mayor-elect Len Brown rashly promised to come up with 100 new projects in 100 days, it was hard to decide whether to admire him for his courage or suggest he take a calming powder.
I find coming up with three bright ideas a week more than enough brain exercise for anyone.
At the time of his announcement, Mr Brown was promising that when the ideas started flowing "we will see things really fly", but six weeks on, the poor mayor and his staff seem to be straining to produce anything. Indeed, they don't seem to have reached double figures yet.
The latest bonne idee is to order a review of closed circuit television within the city and its use in the battle against crime. "The use of CCTV is a proven tool in solving crime and making people feel safer," declared the mayor. "We can reduce crime in Auckland by co-ordinating the way we use CCTV. We owe it to our people to make them feel as safe as we can in our streets."
The fact is, as his press release admits, crime in Auckland is hardly riding a wave of terror. Last year it was up just 1.2 per cent in the Waitemata police district, 1.6 per cent in Auckland City police district and 6.9 per cent in Counties Manukau. The last figure, rather embarrassing for Mr Brown, covers the area where he was previously mayor and trying to keep his people safe.
The mayor says the main issue for the council if it "is likely to promote widespread CCTV coverage in public places" is how much ratepayers are going to pay for the establishment and maintenance of these systems.
He says, "Ultimately, an appropriate balance between legitimate safety concerns, the economic burden on ratepayers and social costs such as intrusion on privacy is needed."
As far as I can see, the only reason for this research document being rushed through over the summer holidays and presented to the mayor by March 2011 is public relations, so he can be seen to be doing things. And padding out that list.
It certainly doesn't provide much time for consideration of the basic - and seemingly ignored - question of whether large expenditure on these spy cameras actually reduces crime.
Perhaps I'm reading more into Mr Brown's comment than he meant when he says "we owe it to our people to make them feel as safe as we can". But deliberately or not, he has homed in on the basic dilemma. While it is true that spy cameras do make people "feel safe", it's far from clear whether they actually make them safer.
Two major reports from the spy-camera capital of the world, Britain, suggest there's no evidence to support the belief. A 1995 report for the Scottish Office found no evidence that Glasgow's then new CCTV system had reduced crime or reduced fear of it.
A 2005 British Home Office report into 15 different spy-camera installations in various town centres and housing estates echoed these results. Professor Martin Gill concluded, "CCTV is an ineffective tool if the aim is to reduce overall crime rates and make people feel safer".
The Auckland CBD is already studded with spy cameras, including 49 in the city streets, 16 around the Viaduct Basin and 64 in the Britomart transport centre. Much of the installation was paid for by Auckland ratepayers, either directly or through the Heart of the City organisation, and handed over to the police to run.
The 49-camera CBD installation cost ratepayers $500,000. Not to be outdone, the Newmarket Business Association used $142,500 of their ratepayer handout on an eight-camera installation of their own.
Unsurprisingly, both organisations and the police extol the cameras' crime-fighting virtues.
But before Auckland Council rushes into enlarging this network, or offers to fund it out of rates, could I suggest we do some research into whether these intrusive networks actually do more than just make us "feel safer". After that, perhaps, we can decide whether ratepayers should be funding what is, after all, a police tool.
A probe into making Auckland safer should also be expanded into the work done by the old Auckland City Council on creating safer cities. There's plenty of research from overseas as well showing something as simple as lighting our footpaths better might be a smarter and more effective deterrent than cameras.