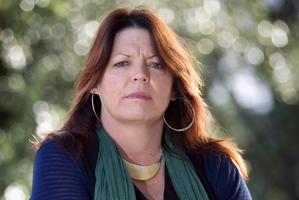 A counsellor has been banned from treating prison inmates and told her contact with them was "inappropriate".
Lydia Buxeda said she had been given no formal reason or explanation for being barred from the prisons and believed her clients would be adversely affected as a result.
Ms Buxeda, whose prison clients include Killer Beez gang leader Josh Masters, had worked as a counsellor for 16 years when she began working with prisoners in July last year.
In her role as an ACC-funded counsellor, she visited prisoners at Ngawha prison in Northland, Auckland Prison at Paremoremo and Spring Hill prison, in the Waikato.
Spring Hill was the scene of a riot in June, which caused millions of dollars in damage and led to 23 prisoners facing charges.
Ms Buxeda said she drove to Ngawha prison to keep normal appointments with prisoners and was told she was not allowed to enter. She was told the same when arriving at other prisons - but not told why.
Efforts to find out the reason for the ban were unsuccessful, although she wrote to her clients telling them she was unable to visit and raising the possibility it was due to a decision made by a Department of Corrections staff psychologist.
A letter from ACC to the Association of Counsellors raised concerns about her contact with prisoners.
It said letters by Ms Buxeda to her inmate clients wrongly named a prison psychologist as the cause of the visits being suspended, which resulted in threats being made.
It also stated there were "potential issues with professional boundaries Ms Buxeda sets with her clients and the nature of the correspondence is felt to be inappropriate".
"It is felt her behaviour poses a significant risk to the wellbeing of ACC clients."
Ms Buxeda said Corrections had never offered any explanation for her being barred from the prison. She said there was no inappropriate contact between herself and inmates although some might have formed an attachment to her.
"It happens all the time in private practice. Clients will express desire as a part of my work. I'm not allowed to desire clients but a client is allowed to desire me," she said.
She said Corrections intercepted a letter from an inmate which carried such sentiments - an interception which she believed betrayed her professional relationship with clients.
The Herald contacted Corrections in late July to ask for comment about Ms Buxeda's case and a spokeswoman said the department was in the process of responding to her.
She said: "We believe she should hear our response from us first. She may wish to share our reply with you."
The Herald checked again last week and was told the department had not yet finished writing to her. No other comment would be made.
Report on riot under wraps
The report into the Spring Hill prison riot may not be made public.
The Department of Corrections has refused to answer questions about the riot inquiry, citing the appearance of 23 inmates before the courts on charges related to the incident.
A spokeswoman said: "As the Spring Hill inquiry report is not yet complete, no decision has been made about what will be released."