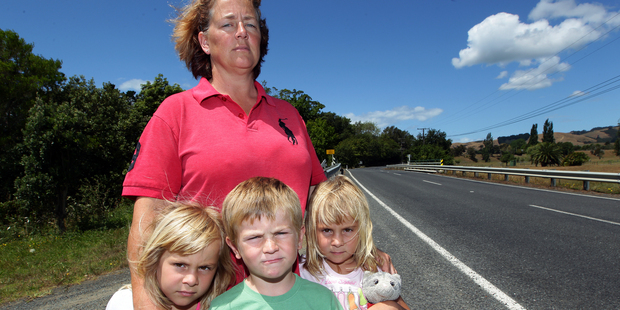 Angry parents in a small coastal town claim changes to a school bus route will put children's lives at risk.
Residents of Kawakawa Bay, in South Auckland, are furious a long-standing 15km return service from the town to Clevedon School has been scrapped.
More than 40 children will now get on and off the bus 5.2km out of town when they return to school on Wednesday. Parents claim the move is inconvenient and dangerous, with the new stop in a 100km/h zone on a busy rural road.
Kawakawa mum Lorraine Blackwell has three children and is leading a group of locals who plan to protest at the new bus stop, on the Clevedon-Kawakawa Bay Rd. "The stop is just past a bend and it is madness," she told the Herald on Sunday.
"I have told the local police to expect a lot of 111 calls on Wednesday morning because we are taking a convoy of about 40 or 50 cars up there.
"We will park all over the place and block people's driveways if necessary, because this has to be sorted before a child gets killed."
Carol McKenzie-Rex, Clevedon School board chairwoman, said primary-aged kids had used the bus for Papakura High for many years. That service was stopped as few secondary students used it.
She said Murphy Buses had quoted a weekly figure of $620 - or $3 a head per return trip - to extend the new service with a short trip into Kawakawa Bay.
"Some people have three children and that is an extra $45 a week to find," she said. "A lot of people can't afford it.
"The Ministry of Education won't even consider moving their new bus stop a few hundred metres along the road to a safer spot."
The Ministry said it advised parents last September of the changes, caused by schools pulling out of a shared transport network. "Kawakawa students attending Clevedon School are not attending their closest school, so they are ineligible for Ministry-funded transport assistance," a spokesman said.
Murphy Buses' Auckland boss Ian Greenslade declined to comment.