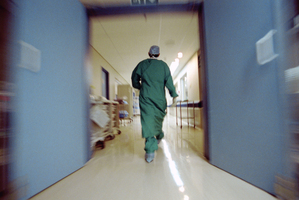 Doctors can legally carry out sex-selection abortions in Britain, the Director of Public Prosecutions ruled yesterday as he claimed that outdated laws were virtually unenforceable.
Keir Starmer concluded that "the law does not expressly prohibit" such practices. He published a detailed memorandum explaining the decision by the Crown Prosecution Service not to prosecute two doctors who agreed to arrange illegal abortions based on the sex of an unborn baby.
The ruling is expected to outrage dozens of MPs who have criticised the medical establishment for seeking to redefine abortion laws.
Starmer warned that guidance for doctors urgently needs updating amid concern over practices in clinics which do not appear to break the letter of the law.
The two doctors at the centre of the controversy were exposed after being secretly filmed offering to abort baby girls, even though this is widely held to be illegal.
The CPS decided it would not be in "the public interest" to prosecute them.
Starmer said that the British Medical Association advises that "there may be circumstances, in which termination of pregnancy on grounds of fetal sex would be lawful".