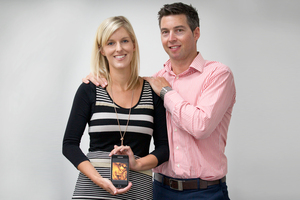 Lisa East is the first woman to become pregnant in New Zealand through a fertility treatment that is well established overseas but new here.
Mrs East and her husband Stuart, of Auckland, tried some less invasive fertility treatments, but without success.
Fertility Associates specialist Dr Simon Kelly diagnosed Mrs East as having poly-cystic ovary syndrome, in which multiple small cysts form in the ovaries, affecting fertility.
He recommended in-vitro maturation (IVM), a form of fertilisation treatment.
A 30-year-old marketing and communications consultant, Mrs East said she was attracted to IVM because it required the use of fewer drugs than IVF. She had the treatment last year and is now 19 weeks pregnant with a single baby, a boy.
"I became pregnant on the first go. We felt very lucky that it was on the first try. We were both very aware that's not the case for a lot of people."
A nurse from the clinic had phoned with the news.
"I didn't believe it. I thought it was all too easy and it couldn't have possibly happened first time around. I was obviously very excited."
Dr Kelly said a second woman had become pregnant with IVM.
"She is 13 to 14 weeks pregnant and is doing very well, as well."
The world's first IVM baby was born in the United States in 1983, but the technique was permitted in New Zealand only in 2011, after an application by Fertility Associates.
Dr Kelly said the application was held up by the passing of the Human Assisted Reproductive Technology Act 2004 and the transition from Labour to National in 2008.
The main target group for IVM was women under age 35 with poly-cystic ovary syndrome, as they tended to get the best pregnancy rates. These rates were 5 to 10 per cent lower than for IVF but had improved, he said.
IVM is a safer treatment for women with poly-cystic ovary disease because they are at increased risk of ovarian hyper-stimulation syndrome, a usually mild but potentially life-threatening complication of IVF hormone treatment.
IVM is also offered to women who wish to avoid or do not have time to use hormone stimulation before starting cancer chemotherapy which may impair their fertility.
Dr Kelly said the treatment cost $7000 to $8000, compared with around $11,000 for IVF.

What is IVM
• In-vitro maturation, IVM, is a variation of in-vitro fertilisation, IVF
• Immature eggs are collected from the woman's ovaries
• Eggs are matured in laboratory for 24 to 48 hours
• Eggs are fertilised, as in IVF, to create embryos
• Embryos are implanted into the woman or frozen