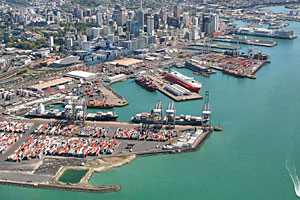 Auckland has a special opportunity in front of it - the development of a world-class waterfront. How its 140-year-old port fits into that future is a very important issue.
Over a 30-year career within the international shipping and port industry, I have worked in city ports all over the world. Like many Aucklanders, I have come to New Zealand from overseas.
In my opinion, city ports like ours - "working waterfronts" - have an authenticity and vitality that should be celebrated, not hidden away.
Auckland should be proud of its port and the history it shares with the city.
Since 1996, the volume of containerised cargo we handle has more than doubled.
At the same time, by working smarter and using new technology, we have been able to reduce our waterfront footprint by nearly half, from 140ha to 77ha.
The released land includes the Westhaven Marina, the Viaduct, the Wynyard Quarter Tank Farm, Princes Wharf and - most recently - Queens Wharf, which will be transferred to the Government and Auckland Regional Council next April.
We are also working to enable, within about 10 years, public access to the 2.1ha Captain Cook Wharf, opposite Gore St.
In reducing our footprint, it has been important to retain enough land to run an efficient port. Long-term, we also need to be able to grow and intensify our operations in the east, so that Auckland's and New Zealand's future cargo and freight needs can be met.
Ports of Auckland is by far the country's most important port. Last year we handled cargo worth nearly $27 billion - the equivalent of 15 per cent of national GDP. That's the same as the ports of Tauranga, Lyttelton and Whangarei combined.
Our overall share of the country's container market is some 36 per cent, around 40 per cent more than our nearest competitor.
Moving the trade elsewhere, as some suggest, is not a sensible option. Given the projected long-term increase in freight demand, all three ports in the upper North Island will need to grow if we are to avoid an infrastructure deficit in ports similar to that which the country has experienced in roads and electricity.
Furthermore, factoring in cost, efficiency and the environment, Ports of Auckland is the logical hub for Auckland's - and much of New Zealand's - cargo.
Our customers need to be close to Auckland's population base and to the manufacturing and warehousing heartland of South Auckland.
Each day added to the supply chain adds unnecessary cost to the cargo owner and ultimately the consumer - 0.9 per cent of the value of the shipment, the World Bank says.
As well as the advantages of proximity to market, we have the most developed infrastructure and technology of any New Zealand port.
Over the past 10 to 20 years there has been significant capital investment at Ports of Auckland that it would be foolish to duplicate elsewhere.
This means that while other ports require substantial further investment, we are already on standby to service the next generation of larger container ships.
But New Zealand as a country does need to make some smart, strategic decisions about how to best cater for long-term growth in freight volumes.
If New Zealand is to remain globally competitive, we must move beyond domestic infighting and parochialism, which I believe have constrained thinking and investment in transport infrastructure in recent years, and ensure we invest intelligently.
The Australian ports, mostly state-owned, are currently spending hundreds of millions of dollars on infrastructure.
The risk is that New Zealand could eventually be bypassed by the super-sized ships that dominate the world shipping trade - a potentially very unfortunate development for our exporters and importers, who could end up with longer transit time, and thereby extra risks and costs, to market. Our ports - and the transport infrastructure that supports them - must be ready and up to the job.
This means we must continue to improve productivity and efficiency at Ports of Auckland so that we reach world-class standards. It also means that, with the best will in the world, there is a limit to how much land Ports of Auckland can reasonably free up, and still cater for the current and future needs of New Zealand's supply chain.
For example, Bledisloe wharf must and will remain a crucial part of port operations - regardless of any future rationalisation within the port sector.
Looking forward, Ports of Auckland's success is central to Auckland's ambitions to be a world-class city - through our role in the supply chain, our dividend stream (more than $500million to Auckland Regional Holdings over the past five years) and our sizeable economic contribution.
Auckland's port must necessarily be economically and environmentally sustainable, and we must consequently take a very long-term view of the opportunities and challenges. I am, therefore, a supporter of plans to create a unitary Auckland Council, a less fragmented regulatory environment and a more co-ordinated approach towards Auckland waterfront developments.
My team and I are acutely aware that having a working port in a major international city is a special responsibility. We will continue to place the highest priority on ensuring Ports of Auckland delivers an efficient, environmentally sound supply chain for New Zealand, and on returning the company to acceptable levels of profitability.
* Jens B. Madsen is managing director of Ports of Auckland.
* This article initially stated incorrectly that Ports of Auckland had paid Auckland Regional Holdings more than $500,000 million over the past five years. It should have said more than $500 million.