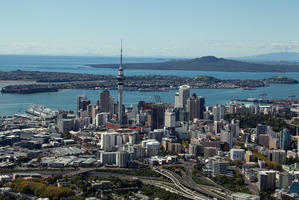 Auckland accounted for more than half of New Zealand's population growth in the past year, new statistics reveal.
The city of sails experienced the largest percentage growth in the year to June, increasing by 1.4 per cent, followed by Canterbury at 1.3 per cent, and Otago at 0.9 per cent - all above the national average, a Statistics New Zealand report released today shows.
Auckland accounted for 57 per cent of the country's total population growth, with Canterbury's growth accounting for 19 per cent.
The fastest-growing region over the last decade was Auckland, and this year was no different, with the city increasing its population to 1.53 million.
More than two-thirds of that growth came from a natural increase (births) of 68 per cent, while the remaining growth came from net migration.
The second largest growth in the North Island in the past year was Hamilton, which grew by 2100, SNZ's population estimate study said.
The country's most dramatic growth was seen in the Canterbury region, which increased by 7300 in the June 2013 year. Of those 4900 people were from national and international migration.
It came as Christchurch saw an increase in its population for the first time in two years, after numbers dropped following the earthquakes. The city's rebuild has brought an influx of new residents and tradespeople into the region, with data showing more than 1000 men in the 25-34 age bracket moved to the city over the past year.
Christchurch's population grew by 2900 to 366,000 in the June 2013 year. However, this is still 10,000 people fewer than the 2010 pre-earthquake population.
Population size is growing across the country, with 13 of New Zealand's 16 regions seeing some form of increase.
The five fastest growing territorial authority areas were in the South Island - Selwyn (4.5 per cent), Queenstown-Lakes (3.4 per cent), Waimakariri (3.1 per cent), Central Otago (1.6 per cent), and Ashburton (1.5 per cent). All were above the national average.
As a whole, New Zealand's population growth remained low, with only 37,700 new people or a 0.9 per cent increase. However, this was up from the 0.6 per cent increase the previous year.
SNZ said the increase was due to more births than deaths, and a net international migration gain of 7900.
However, it said there had been fewer births over the past year, meaning the natural increase was at its lowest since 2005. While net migration was up from last year by 11,100.
The South Island's population grew more than the North Island's - with an increase of 0.9 per cent compared to 0.8 per cent - for the first time since SNZ began its population growth study in 1996.
The South Island also increased by much more than its usual average, with 9700 new people added to its population, compared to a growth of just 200 between June 2010 and June 2012.