MPs acknowledge discharges have damaged waterways, but say Green Party proposal is not the best answer.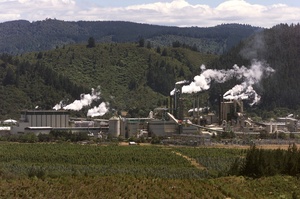 A law change to limit how long companies can discharge pollution into New Zealand's waterways has been shot down by a parliamentary select committee.
Green Party MP Catherine Delahunty's member's bill was influenced by the Tasman Pulp and Paper Mill's effluent discharges into the Tarawera River in the Bay of Plenty.
It became known as the Black Drain because the pollution gradually turned the waterway near-opaque.
The mill has been discharging into the Tarawera since 1955 and in 2009 gained a 25-year consent to continue the practice.
The Resource Management Act now allows discharges into water in "exceptional circumstances". Ms Delahunty said this term had never been defined.
The bill passed its first reading with the help of the Maori Party and United Future, but the parliamentary local government and environment committee has recommended that it should not become law.
The committee's report said a shorter consent duration could provide a strong incentive for consent holders to address ongoing environmental effects.
But a majority of MPs on the committee were concerned it could adversely affect the companies' ability to raise capital.
It also said the "exceptional circumstances" section of the RMA had been used on rare occasions and the Environment Court had applied stringent tests.
The report acknowledged that the water quality of some waterways had declined over several decades, but said Ms Delahunty's bill was not the most effective way of improving it.
Members said the Land and Water Forum and the National Policy Statement for Freshwater Management were better vehicles for improving water quality.
The Greens "strongly disagreed" with the decision and felt the Government's reforms did not address the pollution of water under exceptional circumstances.
"In 2013 it is extraordinary that such a reasonable environmental modification which addresses a deep cultural hurt since 1955 and an ongoing misuse of the environment in at least one instance should be ignored by Parliament."