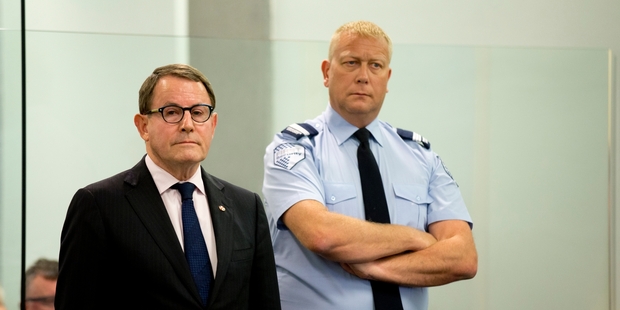 Act's last man standing in Parliament John Banks will get to stay there until it rises for the election - avoiding the ignominy of being one of the only MPs to lose their place in the House over a serious criminal conviction.
Following a tortuous two-year saga, Justice Wylie yesterday found Banks guilty of knowingly filing a false electoral return during his 2010 Auckland mayoralty bid, an offence severe enough to see him automatically ejected from Parliament. However he must be convicted to trigger his removal.
Justice Wylie did not enter a conviction yesterday and lawyer David Jones QC plans to apply for Banks to be discharged without conviction at his sentencing on August 1.
Opposition leader David Cunliffe said the decision to leave the issue of a conviction until sentencing - which is the day after Parliament rises - leaves Prime Minister John Key's Government propped up by a "rotting political carcass".
Senior Cabinet Minister Gerry Brownlee said any questions about Mr Banks' status in Parliament until then needed to be directed to Speaker of the House David Carter.
A spokesman for Mr Carter said that until the August 1 hearing, "there is no change to Mr Banks' status as a member of Parliament".
Whether Mr Banks had been immediately convicted and ejected from Parliament or not makes little difference to the stability of the Government which would retain a majority anyway with United Future and the Maori Party.
Despite Opposition calls for Mr Banks to resign his seat immediately, Mr Key said he still stood by the former Act Leader.
"In the end, Mr Banks may appeal. I don't know the details of that but in my experience of dealing with him over the period of time that he's been both the leader of the Act Party and in Parliament, and in my previous dealings with him, I've always found him to be very honest."
Mr Cunliffe said Justice Wylie's decision to leave sentencing and the issue of conviction until after Parliament rose was "unusual".
For the next five weeks, he said, New Zealanders were going to see "a person who is guilty of electoral fraud and they are going to know that this Government is being propped up by a rotting political carcass who has lost all moral legitimacy".